Guard Pro. How to remove? (Uninstall guide)
Guard Pro (also called as GuardPro) is a rogue anti-spyware program that usually appears on the compromised PC from nowhere. GuardPro is installed when you download and install Trojans hiding on the insecure Web sources or may come with file downloads and spam e-mail attachments. Once inside, these Trojans let this malware with all its necessary data enter the machine and also configure the program to start automatically right after Windows boots up.
When Guard Pro is settled down, it starts producing fake security alerts in the computer taskbar. These messages state you are infected or have some problems on your PC and list a great variety of parasites "detected". When you click these alerts, Guard Pro automatically opens and "scans" the whole system. This scan will not only display fake and exaggerated results, but will also find legitimate programs that are important for a proper PC work. The "full" version of Guard Pro additionally will be offered as the only solution for fixing everything, though, in order to remove all these earlier mentioned infections, you will be asked paying the money at first.
While Guard Pro is active, is also produces tons of annoying pop-up ads and system tray notifications. All these messages state that malicious software is running and wants to send your personal data through the Internet. However, just like the scan results, all these notifications should be ignored because they are false.
It goes without saying that GuardPro is a badware created to scare Pc users into purchasing it. Do not spend your money on this rogue and by all means remove Guard Pro as soon as possible. If you have already purchased it, you should contact your credit card company to dispute the charges. Please follow the steps of the removal guide and uninstall Guard Pro and any related malware.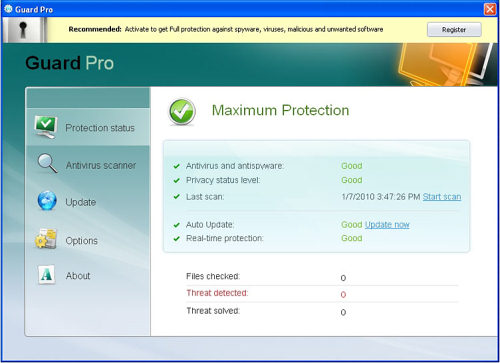 Guard Pro manual removal:
Kill processes:
VH339.exe
Unregister DLLs:
mozcrt19.dll
sqlite3.dll
Delete files:
cookies.sqlite
mozcrt19.dll
sqlite3.dll
Internet Explorer\Quick Launch\Guard Pro.lnk
Guard Pro.lnk
VH339.exe
VHOOK.ico
VHJJOOK.cfg
Delete directories:
UserProfileApplication DataGuard Pro
c:Documents and SettingsAll UsersApplication Data
About the author