Hadopi virus. How to remove? (Uninstall guide)
Hadopi virus is a dangerous ransomware virus, which can accidentally be installed on your PC if you live somewhere in France. Similarly to Gendarmerie Nationale Virus, it blocks the system once it gets inside it and starts showing its misleading alert instead of the typical desktop, which is set on computer's screen. This fake alert typically presents itself as a warning of the law enforcement agency located somewhere in France or other European country and reports about various law violations detected. Additionally, it offers for its victim to pay the fine and avoid getting into jail and other serious consequence. In reality, this entire story is used by scammers to swindle the money from PC users and it has nothing to do with governmental authorities of France. So, you can safely ignore the message displayed by Hadopi virus. However, your computer will remain locked until you won't remove it from the system.
HOW CAN I GET INFECTED WITH Hadopi virus?
Hadopi virus is distributed by dangerous trojan horse, which attacks poorly protected systems and gets inside through security holes found. Once it does that, it blocks the whole desktop down and helps for Hadopi virus to take over the desktop of the infected machine. Additionally, ransomware starts showing its fake warning, which is filled with such sensitive information as PC's IP address, location, various logos of law enforcement agencies and similar things. Besides, this forged notification reports about e-crimes, such as copyright law violation and distribution of malware. Of course, these crimes are invented and you should never pay 100 $ to unlock your PC and avoid getting into jail. If you want to fix your PC for good, read the following guide on how to remove Hadopi virus.
HOW TO REMOVE Hadopi virus?
If you want to unlock your PC and finally remove Hadopi virus from the system, try setting your computer's date to the previous one. If this doesn't help you to get rid of computer's lock down, follow these options:
* Flash drive method:
1. Take another machine and use it to download Malwarebytes, Reimage, or other reputable anti-malware program.
2. Update the program and put into the USB drive or simple CD.
3. In the meanwhile, reboot your infected machine to Safe Mode with command prompt and stick USB drive in it.
4. Reboot computer infected with Hadopi virus once more and run a full system scan.
* Users infected with Hadopi virus are allowed to access other accounts on their Windows systems. If one of such accounts has administrator rights, you should be capable to launch anti-malware program.
* Try to deny the Flash to make your ransomware stop function as intended. In order to disable the Flash, go to Macromedia support and select 'Deny': http://www.macromedia.com/support/documentation/en/flashplayer/help/help09.html. After doing that, run a full system scan with anti-malware program.
* Manual Hadopi virus removal:
Reboot you infected PC to 'Safe mode with command prompt' to disable Ukash virus (this should be working with all versions of this threat)
Run Regedit
Search for WinLogon Entries and write down all the files that are not explorer.exe or blank. Replace them with explorer.exe.
Search the registry for these files you have written down and delete the registry keys referencing the files.
Reboot and run a full system scan with updated Malwarebytes or Reimage to remove remaining virus files.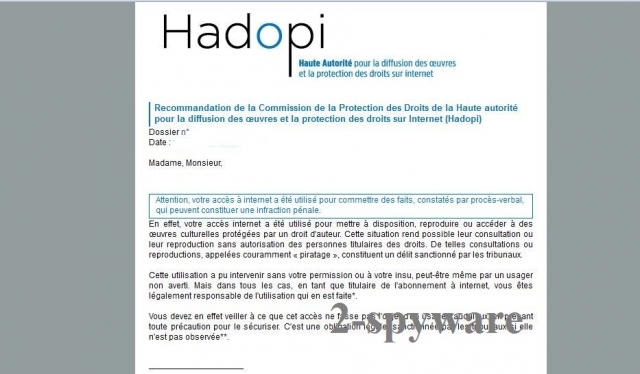 Hadopi virus manual removal:
Kill processes:
[random].exe
Delete files:
[random].exe
About the author