HDD Diagnostic. How to remove? (Uninstall guide)
HDD Diagnostic is a freshly released malware which hails from the tens of fake defragmenters where the latest of them are: Hard Drive Diagnostic, Win Defragmenter, Win HDD, Check Disk, Ultra Defragger and many others. These all malwares are mostly distributed with a help of Trojans viruses that may come inside your computer without any sort of authentication procedure. Besides, HDDDiagnostic has been also noticed to be promoted by TDSS rootkit which starts various redirections of Google searches and blocks the access to security sites. So, there is no need to tell that you must avoid HDD Diagnostic malware and remove it just after noticing its activity.
When HDD Diagnostic is on your machine, it will be set to start after each computer's reboot. That means that your private browsing routine will be surely followed by its misleading messages telling such errors:
Critical Error!
Windows was unable to save all the data for the file System32496A8300. The data has been lost. This error may be caused by a failure of your computer hardware.
Critical Error
A critical error has occurred while indexing data stored on hard drive. System restart required.
System Restore
The system has been restored after a critical error. Data integrity and hard drive integrity verification required.
Critical Error!
Damaged hard drive clusters detected. Private data is at risk.
Critical Error
Hard Drive not found. Missing hard drive.
Critical Error
RAM memory usage is critically high. RAM memory failure.
Critical Error
Windows can't find hard disk space. Hard drive error
HDD Diagnostic will offer a fake only after being purchased it will be capable enough to fix these detections. Malware will also ask launching Safe mode before it starts "checking" and then will show FAKE background of Safe Mode. Additionally it declares:
Windows Disk Diagnostics
Windows detected a hard disk error.
A problem with the hard drive sectors has been detected. It is recommended to download the following sertified software to fix the detected hard drive problems. Do you want to download recommended software?
Requested registry access is not allowed. Registry defragmentation required
Read time of hard drive clusters less than 500 ms
32% of HDD space is unreadable
Bad sectors on hard drive or damaged file allocation table
GPU RAM temperature is critically high. Urgent RAM memory optimization is required to prevent system crash
Drive C initializing error
Ram Temperature is 83 C. Optimization is required for normal operation.
Hard drive doesn't respond to system commands
Data Safety Problem. System integrity is at risk.
Registry Error – Critical Error
Windows detected a hard drive problem.
A hard drive error occurred while starting the application.
As you should have already realized, HDD Diagnostic is another scam which is expected to help for hackers to reach their malicious plan. And the plan is as follows – to scare the user with fake error reports and make him buy its license. However, buying HDD Diagnostic will never help you to resolve your PC problems, so save your money and remove HDD Diagnostic. If you have already purchased it, then contact your credit card company to dispute the charges.
Attention! When removing HDD Diagnostic, use this registration code to disable malware:
0973467457475070215340537432225. Then download renamed Process Explorer (explorer.com), terminate processes and then run a full system scan with STOPzilla, Malwarebytes or automatic removal tool from this page.
The latest parasite names used by FakeHDD:
[newest id="fakehdd"]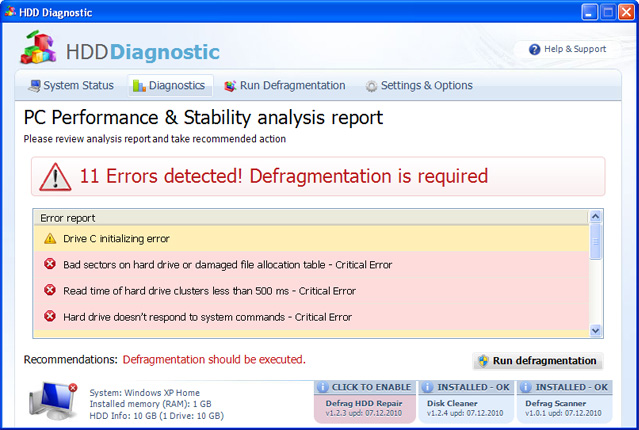 HDD Diagnostic manual removal:
Kill processes:
[random].exe
Delete registry values:
HKEY_CURRENT_USERSoftwareMicrosoftWindowsCurrentVersionRun "[random]"
HKEY_CURRENT_USERSoftwareMicrosoftWindowsCurrentVersionRun "[random].exe"
Unregister DLLs:
[random].dll
Delete files:
%Temp%\[random].bin
%Temp%\[random]
%Temp%\[random].exe
%Temp%\dfrg
%Temp%\dfrgr
%Temp%\[random].dll
%Temp%\[random].exe
%UserProfile%\Start Menu\Programs\HDD Diagnostic\
%UserProfile%\Start Menu\Programs\HDD Diagnostic\HDD Diagnostic.lnk
%UserProfile%\Start Menu\Programs\HDD Diagnostic\Uninstall HDD Diagnostic.lnk
About the author