Home Malware Cleaner. How to remove? (Uninstall guide)
Home Malware Cleaner is a fake anti-spyware program that is distributed through the use of Trojans and compromised websites. It reports premeditated threats and prompts you to purchase the rogue program in order to remove found infections. In other words, it wants to make you think that your computer is infected with malware. The new one uses the same aggressive tactics, especially when it comes to self-protection. It blocks legitimate anti-spyware programs and disables particular Windows functions, usually Task Manager and Regedit, to protect itself from being uninstalled. Please read removal instructions below on how to remove Home Malware Cleaner infection from your computer if you already got infected.
Once installed, Home Malware Cleaner will pretend to scan the system and report many fake spyware infections to scare you into thinking that your computer is infected with viruses, trojans and other malware. The only real infection, though, is Home Malware Cleaner itself. It will ask you to pay for a full version because the main goal of this rogue program is to steal money from inexperienced users and to trick them into installing even more malware. Furthermore, it will display fake security alerts and pop-ups from Windows Task Bar claiming that your computer is infected with a bunch of very dangerous infections.
As you can see, Home Malware Cleaner will do all its best to trick you and to make you purchase the rogue software. Do not purchase it. Otherwise you will simply lose you money and your personal information may be soled in underground markets. In fact, all its 'viruses' are harmless files that are dropped on the system by the same malware. Some of these files are:
%UserProfile%\Recent\DBOLE.tmp
%UserProfile%\Recent\eb.tmp
%UserProfile%\Recent\energy.tmp
%UserProfile%\Recent\exec.drv
%UserProfile%\Recent\fix.drv
%UserProfile%\Recent\grid.exe
%UserProfile%\Recent\PE.drv
Instead of keeping this threat on your PC, remove Home Malware Cleaner as soon as possible. The rogue program can be removed either manually or with an automatic removal tool which is provided below in this page. However, remember that Home Malware Cleaner comes bundled with Trojans and even rootkits. We strongly recommend you to download the removal tool and run a full system scan. If you can't do this in Normal Mode then reboot your computer in Safe Mode with Networking and download removal tool again.
You may also use this activation key U2FD-S2LA-H4KA-UEPB to register the rogue program and make the removal procedure easier.
Reboot your computer in Safe Mode with Networking.
Under the Proxy Server section, please uncheck the checkbox labeled Use a proxy server for your LAN.
Download our recommended anti-spyware program
Rename executable file of the anti-malware from xxx.exe to xxx.com and run it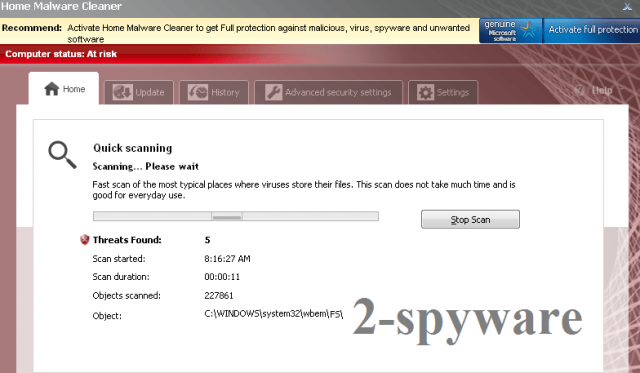 Home Malware Cleaner manual removal:
Kill processes:
[random].exe
AS9c5_8046.exe
scandsk211d_8046.exe
ASa76.exe
eb.exe
runddlkey.exe
Delete registry values:
HKEY_LOCAL_MACHINESoftwareClassesclsid{3F2BBC05-40DF-11D2-9455-00104BC936FF}
Default = Implements DocHostUIHandler
LocalServer32 = %AllUsersProfile%Application Data5c678cAS9c5_8046.exe
ProgID = AS9c5_8046.DocHostUIHandler
HKEY_LOCAL_MACHINEsoftwaremicrosoftWindows NTCurrentVersionImage File Execution Options
Debugger = svchost.exe
HKEY_LOCAL_MACHINEsoftwaremicrosoftWindows NTCurrentVersionImage File Execution OptionsAdwarePrj.exe
Debugger = svchost.exe
HKEY_LOCAL_MACHINEsoftwaremicrosoftWindows NTCurrentVersionImage File Execution Optionsagent.exe
Debugger = svchost.exe
HKEY_LOCAL_MACHINEsoftwaremicrosoftWindows NTCurrentVersionImage File Execution OptionsAlphaAV
Debugger = svchost.exe
HKEY_LOCAL_MACHINEsoftwaremicrosoftWindows NTCurrentVersionImage File Execution OptionsAlphaAV.exe
Debugger = svchost.exe
HKEY_LOCAL_MACHINEsoftwaremicrosoftWindows NTCurrentVersionImage File Execution OptionsAnti-Virus Professional.exe
Debugger = svchost.exe
HKEY_LOCAL_MACHINEsoftwaremicrosoftWindows NTCurrentVersionImage File Execution OptionsAntispywarXP2009.exe
Debugger = svchost.exe
HKEY_LOCAL_MACHINEsoftwaremicrosoftWindows NTCurrentVersionImage File Execution OptionsAntivirusPlus
Debugger = svchost.exe
HKEY_LOCAL_MACHINEsoftwaremicrosoftWindows NTCurrentVersionImage File Execution OptionsAntivirusPlus.exe
Debugger = svchost.exe
HKEY_LOCAL_MACHINEsoftwaremicrosoftWindows NTCurrentVersionImage File Execution OptionsAntivirusPro_2010.exe
Debugger = svchost.exe
HKEY_LOCAL_MACHINEsoftwaremicrosoftWindows NTCurrentVersionImage File Execution OptionsAntivirusXP
Debugger = svchost.exe
HKEY_LOCAL_MACHINEsoftwaremicrosoftWindows NTCurrentVersionImage File Execution OptionsAntivirusXP.exe
Debugger = svchost.exe
HKEY_LOCAL_MACHINEsoftwaremicrosoftWindows NTCurrentVersionImage File Execution Optionsantivirusxppro2009.exe
Debugger = svchost.exe
HKEY_LOCAL_MACHINEsoftwaremicrosoftWindows NTCurrentVersionImage File Execution OptionsAntiVirus_Pro.exe
Debugger = svchost.exe
HKEY_LOCAL_MACHINEsoftwaremicrosoftWindows NTCurrentVersionImage File Execution Optionsav360.exe
Debugger = svchost.exe
HKEY_LOCAL_MACHINEsoftwaremicrosoftWindows NTCurrentVersionImage File Execution OptionsAVCare.exe
Debugger = svchost.exe
HKEY_LOCAL_MACHINEsoftwaremicrosoftWindows NTCurrentVersionImage File Execution Optionsbrastk.exe
Debugger = svchost.exe
HKEY_LOCAL_MACHINEsoftwaremicrosoftWindows NTCurrentVersionImage File Execution OptionsCl.exe
Debugger = svchost.exe
HKEY_LOCAL_MACHINEsoftwaremicrosoftWindows NTCurrentVersionImage File Execution Optionscsc.exe
Debugger = svchost.exe
HKEY_LOCAL_MACHINEsoftwaremicrosoftWindows NTCurrentVersionImage File Execution Optionsdop.exe
Debugger = svchost.exe
Unregister DLLs:
mozcrt19.dll
Delete files:
%AllUsersProfile%Application Data5c678c
%AllUsersProfile%Application Data5c678csqlite3.dll
%AllUsersProfile%Application Data5c678cASPSys
%AllUsersProfile%Application Data5c678cBackUp
%AllUsersProfile%Application Data5c678cQuarantine Items
%AllUsersProfile%Application Data5c678c582.mof
%AllUsersProfile%Application Data5c678cAS9c5_8046.exe
%AllUsersProfile%Application Data5c678cASP.ico
%AllUsersProfile%Application Data5c678cmozcrt19.dll
%AllUsersProfile%Application DataASLNP
%AllUsersProfile%Application DataASLNPASUUDJRRJXP.cfg
%AppData%Home Malware Cleaner
%AppData%Home Malware Cleanercookies.sqlite
%AppData%MicrosoftInternet ExplorerQuick LaunchHome Malware Cleaner.lnk
%UserProfile%DesktopHome Malware Cleaner.lnk
%Temp%scandsk211d_8046.exe
%UserProfile%Start MenuHome Malware Cleaner.lnk
%UserProfile%Start MenuProgramsHome Malware Cleaner.lnk
About the author