Home Personal Antivirus. How to remove? (Uninstall guide)
Home Personal Antivirus is a misleading security application that reports false system security threats and infections on your computer to make you think your PC is infected with spyware, Trojans and other malicious software. However, the only infection is HomePersonal Antivirus itself. It is from the same family as XP Deluxe Protector, WinPC Defender, XP Police Antivirus and Total Secure 2009. Once installed, the rogue program will imitate system scan and display a variety of infections that can't be removed with a trial version of the program. So you will be prompted to buy Home Personal Antivirus to remove those non-existing infections. However, we strongly recommend you not do so. Otherwise, you will simply lose your money and won't get anything in return. Instead, uninstall Home Personal Antivirus from your computer upon detection.
When running, HomePersonalAntivirus will display fake security alerts like every one or two minutes. The rogue program will impersonate Windows Security Center and claim that it did not find antivirus software on your computer. Next, Home Personal Antivirus will suggest you to buy a licence and active antivirus software. What is more, you will be flooded with fake security notifications about serious security and privacy problems. You may see fake alerts with the following text:
"Trojan Detected!
A piece of malicious code of was found in your system which can replicate itself if no action is taken. Click here to have your system cleaned Home Personal Antivirus"
It should be already obvious that Home PersonalAntivirus is a scam, totally useless application. If you find that your computer is infected with this parasite, please use the removal guide below to remove Home Personal Antivirus from the system manually for free.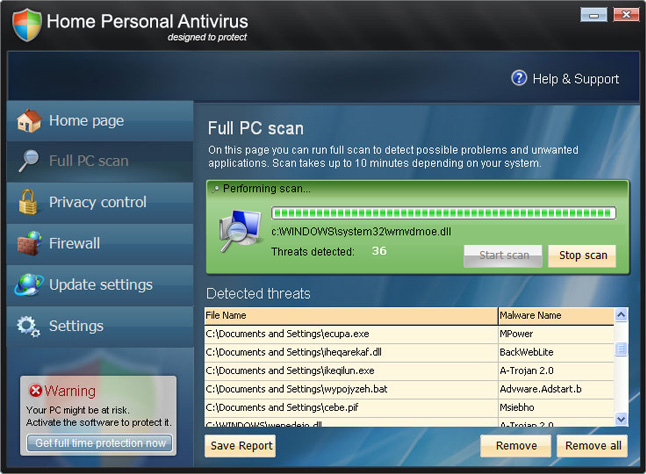 Home Personal Antivirus manual removal:
Kill processes:
homeav.exe
unistall.exe
Delete registry values:
HKEY_CURRENT_USERSoftwareHome Personal Antivirus
HKEY_CURRENT_USERSoftwareMicrosoftWindowsCurrentVersionUninstallHome Personal Antivirus
HKEY_CURRENT_USERSoftwareMicrosoftWindowsCurrentVersionRun "HomeAV"
Unregister DLLs:
BtCoreIf64.dll
msvcm80.dll
msvcp80.dll
msvcr80.dll
null_antivirus.dll
pthreadVC2.dll
Delete files:
homeav.exe
BtCoreIf64.dll
Microsoft.VC80.CRT.manifest
msvcm80.dll
msvcp80.dll
msvcr80.dll
null_antivirus.dll
pthreadVC2.dll
unistall.exe
daily.zvd
Home Personal Antivirus.LNK
Delete directories:
%UserProfile%DesktopHome Personal Antivirus
%UserProfile%DesktopHome Personal Antivirusvdb
About the author