Remove Hotstar Registry Cleaner (Improved Guide) - Free Guide
What should you know about Hotstar Registry Cleaner virus?
First of all, if Hotstar Registry Cleaner is installed on your computer and if you do not like how it works, you should not rush to entitle it as Hotstar Registry Cleaner virus. It is not a malicious software, and it hardly can harm your computer system. However, the activity of it makes computer users think that it is not a good program, so we have decided to take a closer look at it and find out what kind of program it is.
Hotstar Registry Cleaner is nothing more than a useless system tool, which can be described as a rogue registry cleaner. Although it claims to be a comprehensive tool that provides a wide set of features, including disk check, registry defragmenter, deep registry scan and cleaner, registry backup and process manager, it is a hardly useful program that you should not install on your computer system. In case this software manages to enter your computer system seamlessly, we suggest you not to believe what this shady software says. Once installed, it may start to send you numerous alerts stating that your computer is at risk and that you need to fix it immediately. It may display a fake list of computer problems for you, including junk files, missed files, hacking activities and other issues that are supposedly causing damage for your computer.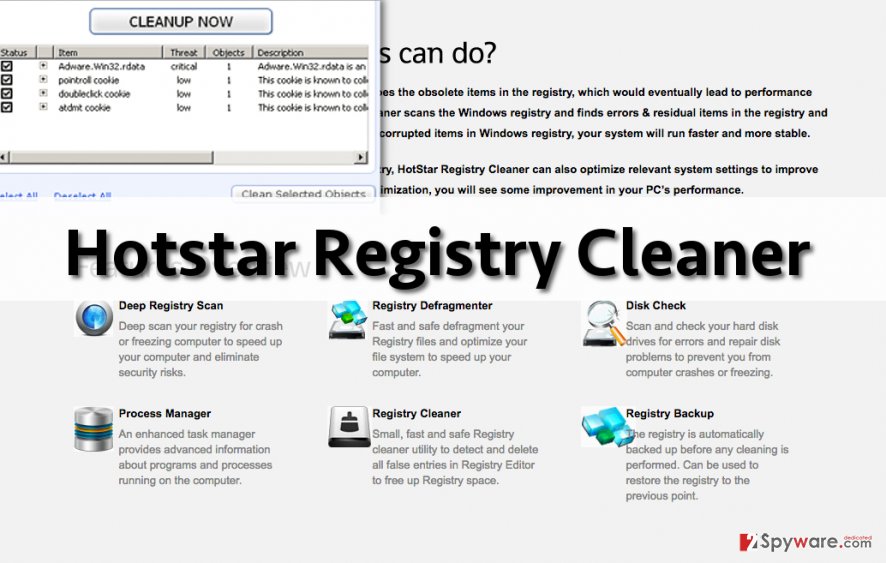 You should remove Hotstar Registry Cleaner software as fast as you can because it might cause a lot of security-related issues for you. This program might try to intimidate you by claiming that your computer is infected and telling you to buy a full version of Hotstar Registry Cleaner potentially unwanted program (PUP) to clean your computer from non-existent problems. Of course, there is a possibility that your computer may be infected with unknown programs, but you can find that out by scanning your computer with a good anti-spyware software. We recommend you to use Reimage to detect Hotstar Registry Cleaner PUP and remove it from your system.
How did Hotstar Registry Cleaner hijack your computer?
Questions about Hotstar Registry Cleaner
As we have already mentioned, calling this potentially unwanted program as a virus would be wrong. It spreads in a legitimate way, which is called "software bundling". To avoid installing unwanted free programs, you need to deselect agreements to avoid installing them alongside your preferred software. So whenever you download software from the Internet, make sure you adjust settings how you want to install it. We suggest that you switch installation settings from Default or Standard option to Custom or Advanced one whenever you install new software on your computer. Then you will receive a list of suggestions to install various third-party programs. We strongly advise you to ignore such recommendations and resist the temptation to try these applications, because you might end up installing potentially unwanted programs such as adware or browser hijackers. That is why you should opt out such additions when installing software on your computer.
If Hotstar Registry Cleaner PUP is already running on your computer system, we suggest you to read Hotstar Registry Cleaner removal instructions given on page 2 and learn how to uninstall this program.
How to remove Hotstar Registry Cleaner PUP from your PC?
You can remove "Hotstar Registry Cleaner virus" on your own or with a help of anti-spyware software. Decide whether you want to look for Hotstar Registry Cleaner components and remove them manually, or if you would rather install a reliable anti-spyware software and let it remove Hotstar Registry Cleaner for you. You can implement Registry Cleaner removal using these instructions:
For Windows users:
Click "Start" button
Enter "Control Panel"
Find "Hotstar Registry Cleaner" and select "Uninstall" function
Finish the process by clicking "OK"
Alternative Software
Different security software includes different virus database. If you didn't succeed in finding malware with Reimage, try running alternative scan with SpyHunter 5.
Alternative Software
Different security software includes different virus database. If you didn't succeed in finding malware with Reimage, try running alternative scan with Combo Cleaner.
About the author

May 23rd, 2016 at 1:45 pm

I have installed Hotstar Registry Cleaner alongside a download manager. My decision to try this registry cleaner was the lamest decision ever…


May 23rd, 2016 at 1:46 pm

Woah! I was expecting to see some complicated instructions! Thanks, I have installed it in a few minutes! Easy!


May 23rd, 2016 at 1:47 pm

I dont like apps that lie. Hotstar Registry Cleaner TOTALLY does not deserve to even be on my PC.


May 23rd, 2016 at 1:47 pm

removed ! 🙂