Huomio! Selaimesi on lukittu. How to remove? (Uninstall guide)
'Huomio! Selaimesi on lukittu' is a browser-based ransomware, which is actively spread on the Internet right now. As soon as it shows up on computer's desktop, it starts blocking it down and covers it with a fake notification. Similarly to previously-released ransomwares, such as Poliisi virus or Poliisihallituksen virus, this message presents itself as a warning from Finnish Police and reports about various law violations. After that, it asks to pay a fine and explains that this is almost the only way how people can avoid more serious punishments. If you noticed 'Huomio! Selaimesi on lukittu' on your computer's screen, it's a sign that it is affected by ransomware. No matter how trustworthy it looks, be sure that this warning seeks only to swindle your money.
How can 'Huomio! Selaimesi on lukittu' appear on my computer?
'Huomio! Selaimesi on lukittu' is not distributed by trojan horse. This fake warning message shows up on computer after people enter a compromised website, which was filled with the malicious javascript code. You can enter it after clicking on malicious ad or after visiting a malicious website, so try to stay away from such domains. As soon as user enters infected website, the code not only starts showing the alert but it also blocks down the browser. Typically, this alert claims:
HUOMIO!
Selaimesi on lukittu turvallisuuden vuoksi allamainittujen syiden takia.
Kaikki toiminta tässä tietokoneessa on kirjattu.
Kaikki tiedostot ovat salattuja.
Sinut syytetään kielletyn pornograafisen aineiston (Lapsiporno/Zoofilia/Raiskaus jne.) katselusta/säilytyksestä ja/tai levityksestä. Sinä olet rikkoneet lapsipornografian levitystä vastaisen yleismaailmallisen julistuksen ja sinut syytetään Suomen tasavallan rikoslain lakipykälän 161 edellyttämään rikokseen
(…)
Sakot on maksattava 48 tunnin aikana rikoksen jälkeen. 48 tunnin kuluttua seuraavan 48 tunnin aikana on käynnissä automaattinen sinua koskevien tietojen keräily ja sinua vastaan nostetaan rikosasia.
Sakon määrä on €100. Sinä voit maksaa laskun voucherien PaySafeCard avulla.
When 'Huomio! Selaimesi on lukittu' is on the screen, you may find out that you can't close it or open a new tab. In order to fix that, you should follow a guide below:
How to remove 'Huomio! Selaimesi on lukittu'?
In order to remove 'Huomio! Selaimesi on lukittu' from your computer's screen, you should follow these instructions. They will help you to unblock your browser and remove malicious files from the system.
Open Windows Task Manager by clicking Ctrl+Alt+Del or Ctrl+Shift+Esc.
Now open the Processes tab and choose 'Show processes from all users'.
Find your browser's process and left-click on it. If you were using Internet Explorer, then cancel iexplore.exe, Mozilla Firefox – firefox.exe, Google Chrome- chrome.exe, Safari – safari.exe, Opera – opera.exe.
Now click 'End Process' button and don't forget to confirm that you really want to do it.
Once you close your affected browser, you should download, update and run a reputable anti-malware program. For that we recommend using Reimage, Malwarebytes Malwarebytes or other reputable anti-spyware.
Alternate Software
We have tested Plumbytes Anti-Malware's efficiency in removing Huomio! Selaimesi on lukittu (2014-01-22)
We have tested Malwarebytes's efficiency in removing Huomio! Selaimesi on lukittu (2014-01-22)
We have tested Hitman Pro's efficiency in removing Huomio! Selaimesi on lukittu (2014-01-22)
We have tested Malwarebytes's efficiency in removing Huomio! Selaimesi on lukittu (2014-01-22)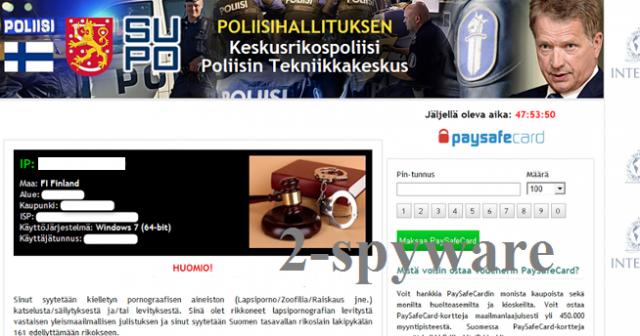 About the author
Removal guides in other languages