Info Seeker virus. How to remove? (Uninstall guide)
Info Seeker is an application that should enhance your browser by offering such service as finding information on Wikipedia, Yelp, UrbanDictionary about your desired word or a phrase. However, there is a catch. In order to use these services for free, you may have to endure hundreds of annoying advertisements everywhere you go. That is why many internet users are assuming that Info Seeker is a malicious infection. Don't worry, this program can barely pose you any threat. Nonetheless, security experts are still labeling this questionable application as a potential threat and an adware. If you see Info Seeker ads, you should consider scanning your computer with an anti-spyware program in order to remove this worthless program automatically.
How can Info Seeker hijack my computer?
At first, this program may look like a very useful tool. However, after a while, many of its users start to complain about the activities Info Seeker virus may initiate. This program has its own download page where you can download it directly. What is more, this application may also travel bundled with various freewares as an additional attachment. Moreover, after reading its privacy policy section, we have also noticed that Info Seeker may act as an adware distributor. This app itself may carry additional attachments and offerings to its victims if you decide to download Info Seeker from its official website. You just need to be a bit more attentive and avoid installing unfamiliar freewares. Always check what programs you are going to install. If you are going to install a doubtful free program, try to choose 'advanced' or 'custom' installation option and attentively follow every step of the installation. Unmark such unwanted attachments along the way.
How to remove Info Seeker virus from my computer?
Sometimes Info Seeker redirects may occur even if you have uninstalled this program from your Add/Remove Programs folder and from your browser. If that is the case, you need to remove an application called 'Updater' from your Add/Remove Programs directory. This simple step-by-step removal tutorial should help you get rid of Info Seeker adware.
Remove Info Seeker from your computer:
1. Click Start → Control Panel → Uninstall a Program.
2. When in the Add/Remove Programs/Uninstall a Program, look for recently installed/unfamiliar applications, such as Info Seeker (Developer: Big Water Applications, LLC), Updater, SaverAddon, SupTab, WebSaver, Shopping-Addon, ValueApps, Lollipop, PriceMeter, Supra Savings, weDownload Manager, Software Updated Version, DP1815, Video Player, Convert Files for Free, BetterSurf, PureLead, Search Assist, Re-Markable, Lollipop, HD-Total-Plus, Safe Saver, Trusted Web, PassShow, LyricsBuddy-1, PureLeads, Media Player 1.1, RRSavings or similar unfamiliar entries.
3. Click 'Uninstall' and then OK to save the changes.
Remove Info Seeker extension from your browsers (Internet Explorer, Mozilla Firefox, and Google Chrome):
Internet Explorer:
1. Open Internet Explorer, go 'Tools' → 'Manage Add-ons' → 'Toolbars and Extensions'.
2. Here, look for Info Seeker and similar entries, and click 'uninstall'.
3. Once you remove it, change your start page.
Mozilla Firefox:
1. Open Mozilla Firefox, go 'Tools' → 'Add-ons' → 'Extensions'.
2. Find Info Seeker and similar entries, and click 'Uninstall'.
3. After that, change the start page.
Google Chrome:
1. Click the Chrome menu button on the Google Chrome browser, select Tools → Extensions.
2. Here, look for Info Seeker extension and get rid of it by clicking on the Recycle Bin.
3. Don't forget to change start page.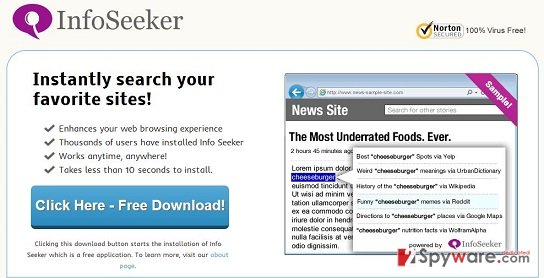 About the author