InSysSecure. How to remove? (Uninstall guide)
InSysSecure is a program that has nothing common with PC security. InSysSecure is a rogue anti-spyware which only pretends to be a useful application but in reality it's just one more creation of WiniSoft group of malwares. This parasite has only German, French and Italian versions at the moment but it can be predicted to release the English variant to become more "successful" and infect more PCs.
InSysSecure is installed through the help of Trojans. These scams insist to be video codecs or flash updates needed for watching videos online. However, instead of downloading these "necessary" files, Trojans get into the machine and also download all the data needed for InSysSecure. Moreover, they configure the program to start automatically when computer begins and create fake random files that drop in the system. In fact, these files do not pose any harm and danger.
When InSysSecure finds itself comfortable, it starts scanning the system for malware. The rogueware detects its own earlier created files, though, reports that only its "full" version is capable to fix everything. Hundreds of various trojans, worms and other malware are announced for the victim trying to make him scared and push into purchasing the scam. What is more, InSysSecure displays fake Windows Security Center that suggests purchasing this malware to protect a computer and hijacks Internet Explorer to apparently display those security warnings written above. InSysSecure produces fake security alerts and messages that all state: "Active malware has been found!", "You are being attacked by a remote computer", "You are sending sensitive data to a remote location!". These messages in German, French or Italian looks like that:
Spzprogramm Warnzeichen!
Ihr Computer ist mit Spionprogramm infektioniert. Das kann Ihren Dateien und die im Internet zugänglich machen. Klicken bitte hier, um Ihre Kopie von InSysSecure zu registrieren und Ihr PC von Spyprogramm frei zu machen.
Spyware Alerte!
Votre ordinateur est infecté de spyware. Il pourrait endommager vos fichiers critiques ou exposer vos données prives sur 'Internet. Cliquez ici pour enregistrer votre copie de InSysSecure et enléver des menaces spyware de votre OP.
Spyware miniaccia!
Il suo computer è infetto di spyware. Puo dannegiare i suoi files criticali rivelare i suoi dati personali nell'Internet. Clicca qui per registrare la sua coppia di InSysSecure e rimouvere le minacce di spyware dal suo computer.
Do not purchase InSysSecure because it's a useless application. Ignore all these fake warnings and scan results because they are all false and delete InSysSecure. Remember, if you have already purchased the program, please contact your credit card company and dispute the charges.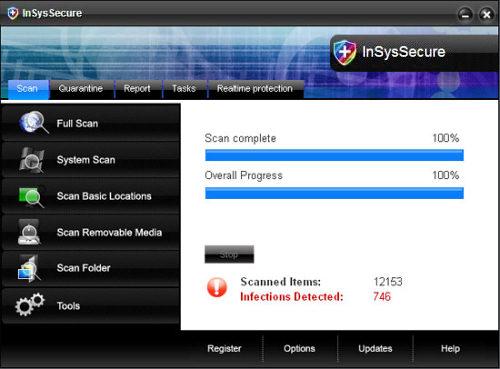 InSysSecure manual removal:
Kill processes:
[random characters].exe
uninstall.exe
29495zy1d5.exe
Delete registry values:
HKEY_CURRENT_USERSoftwareInSysSecure
HKEY_LOCAL_MACHINESOFTWAREInSysSecure
HKEY_LOCAL_MACHINESOFTWAREMicrosoftWindowsCurrentVersionUninstallInSysSecure
HKEY_CURRENT_USERSoftwareMicrosoftWindowsCurrentVersionRun "
.exe"

HKEY_LOCAL_MACHINESOFTWAREMicrosoftWindowsCurrentVersionRun "InSysSecure"







Unregister DLLs:


103215zoj198.dll



Delete files:


InSysSecure.lnk

1 InSysSecure.lnk

2 Homepage.lnk

3 Uninstall.lnk

[random characters].exe

InSysSecure.exe

main_config.xml

uninstall.exe

103215zoj198.dll

10543v5zus929.bin

29495zy1d5.exe

295859pz6ec.bin

2959spzrse1354.cpl




About the author