Internet Security. How to remove? (Uninstall guide)
Internet Security is a fake antivirus program that was designed by computer hackers to steal the money from random PC users. As soon as it infiltrates the system, application generates security related scanners, warnings and pop up ads that all report about various security issues detected. This rogue is closely related to trojan horse, which downloads its files on onto the target PC and additionally modifies the system for making Internet Security virus start as soon as machine is rebooted. After that, this program starts scaring computer users into believing that their systems are in a dangerous situation. For that, it displays continuous pop-up ads every time victim starts the browsing session. Keep in mind that you should never believe this rogue because is seeks only to make you buy its licensed version, which, in fact, is useless. Please, remove Internet Security without any delay.
HOW CAN I GET INFECTED WITH INTERNET SECURITY VIRUS?
Questions about Internet Security
Internet Security uses Trojan horses in order to get inside the system. You can download this threat together with fake update, video codec, e-mail attachment and similar download. Once there, virus starts acting as a reputable security tool. Unfortunately, this is far away from the truth. Internet Security imitates scanning your system with its bogus scanner and then warns about tons of infections that have been supposedly detected on machine.
Here are some of these alerts:
Security Warning!
Malicious program has been detected. Click here to protect your computer
File is infected by W32/Blaster.worm
Please activate to protect your computer
Firewall Warning
Hidden file transfer to remote host has been detected Internet Security has detected a leak of your file through the Internet. We strongly recommend that you block the attack immediately.
Remember, Internet Security in NOT designed to protect your computer because this program seeks only to make you purchase its full version. Its messages are completely fake and they are displayed only to make you believe that your system has some security issues. They should not be taken for granted just like the results of Internet Security scanner. We highly recommend to remove Internet Security from your computer as soon as possible. If you have paid for the program, contact your credit card company and dispute the charges.
HOW TO REMOVE INTERNET SECURITY?
In order to remove Internet Security, you should use updated anti-spyware. Try scanning the system with Reimage or Malwarebytes MalwarebytesCombo Cleaner that will detect this malware for you automatically. Make sure you upgrade these programs before running a full system scan to have the latest updates! If they are blocked, follow these steps:
1. Reboot your computer to Safe Mode with Networking. Just reboot your PC and, as soon as it starts booting up, start pressing F8 repeatedly.
2. Loggin as the same user as you were in normal Windows mode
3. Now click on IE or other browser and select 'Run As' or 'Run As administrator', enter your Administrator account password (if needed).
4. Enter this link to your address bar: https://www.2-spyware.com/download/hunter.exe and download a program on your desktop. Launch it to kill the malicious processes of Internet Security and remove its files.

Alternative Software
Different security software includes different virus database. If you didn't succeed in finding malware with Reimage, try running alternative scan with Malwarebytes.
Alternative Software
Different security software includes different virus database. If you didn't succeed in finding malware with Reimage, try running alternative scan with Combo Cleaner.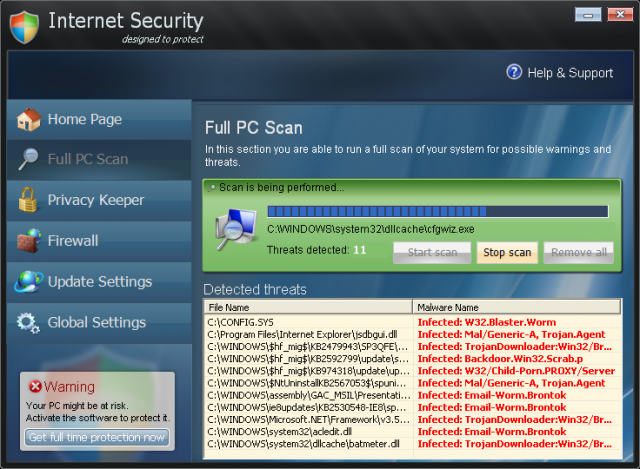 About the author
Removal guides in other languages

February 5th, 2012 at 11:05 pm

I heard spyware is a fake anti-virus .


February 5th, 2012 at 11:52 pm

I dont use fake internet security software i personally use comodo internet security which is purely genuine, it scans the entire PC and destroy the threats.


February 6th, 2012 at 12:10 am

No I donot like this Security software and i use a software that tend to get rid of all viruses.its Comodo!!!


February 7th, 2012 at 2:45 pm

This is quite simply a virus that tries to take your money. It will tell you whatever it needs to (Included in the above picture is a "virus" named child porn proxy server. This actually caused a hell of a lot of commotion to my less than tech savvy friends when they saw "child porn".

Keep in mind – This program is a virus and you need to get a virus removal program to get rid of it. There are many out there but the one I personally use for spyware and malware is spybot search and destroy. Its completely free and can be found by googling it. Use what you will, just dont use this virus program that will most likely wipe out your bank account.


June 19th, 2013 at 2:00 pm

This is BS, after spending an hour scanning my machine… it tells me i need to by 39 dollars to remove the threats…
Whos taking whos money? The fake virus or this so called fake virus remover


June 23rd, 2013 at 3:40 am

I security blocks my internet access any suggestions on how to obtain software?


July 28th, 2013 at 6:32 am

check if youre set on proxy. Prob what it is.


July 6th, 2013 at 1:58 am

We cans say it is fake,Its working but not give satisfaction,right now i am using spyware and its working, I know why people say its fake because its processing is slow,computer internet security