InternetOptimize virus. How to remove? (Uninstall guide)
InternetOptimize is something that can't be unnoticed. If it manages to get inside the target PC system, it starts displaying commercial pop-up ads, causes redirects to unknown websites and initiates slow downs on each of web browsers. No matter that its name promises to help people improve their browsing, it seems that it can hardly do that. By the way, it seems that this application can be used for tracking people's browsing and collecting various information, such as what sites are visited the most, what data is entered, etc. If you don't want to have privacy-related issues, you should be very careful with InternetOptimize. In fact, we don't recommend keeping this program installed on computer. For uninstalling it, you should waste no time and scan your computer with reputable anti-spyware.
How can InternetOptimize hijack my computer?
InternetOptimize is distributed via its official website. However, there are hundreds of people who have noticed this program on their PCs without downloading it there. That's because its developers have also started using an unfair distribution technique, which is known as bundling. When used, this method can hardly imagines without freeware and shareware, whoch is typically involved to the distribution of InternetOptimize for making some money. When trying to avoid InternetOptimize virus, the main thing that has to be done is a careful verification of programs before installing them on the system. BY the way, you should definitely choose Custom or Advanced installation for getting more capability to monitor freeware's installation.
How to remove InternetOptimize?
Technically, InternetOptimize is not a virus. However, you should avoid it if you don't want to run into various annoying activities. For eliminating this potentially unwanted program from the system, we highly recommend following this guide:
Remove InternetOptimize from your computer:
1. Click Start → Control Panel → Uninstall a Program.
2. When in the Add/Remove Programs/Uninstall a Program, look for recently installed/unfamiliar applications, such as InternetOptimize or similar unfamiliar entries.
3. Click 'Uninstall' and then OK to save the changes.
Reset your browsers (Internet Explorer, Mozilla Firefox and Google Chrome):
Internet Explorer:
1. Open Internet Explorer, click the Gear icon or 'Tools' → 'Internet Options'.
2. Here, go to the 'Advanced' tab and click the 'Reset' button.
3. Go to the 'Reset Internet Explorer settings' → 'Delete personal settings' and click on 'Reset' option.
4. Finally, click 'Close' and OK to save the changes.
Mozilla Firefox:
1. Open Mozilla Firefox, go to the 'Help' section → 'Troubleshooting Information'.
2. Here, choose a 'Reset Firefox' for a couple of times and 'Finish'.
Google Chrome:
1. Click the Chrome menu button on the Google Chrome browser, select 'Tools' → 'Extensions'.
2. Here, look for unfamiliar entries.
3. Select each of them and choose Trash can icon to delete them.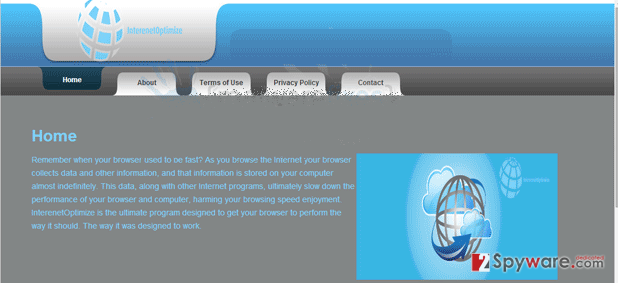 About the author