IReview virus. How to remove? (Uninstall guide)
removal by Jake Doevan
-
- Also known as
iReview ads, iReview redirect
| Type:
Adware
iReview is an application that enables such features as an opportunity to rate a website that you visit, review various products and services and see reviews from other people. Although that sounds like a great application, you should know a couple of questionable facts about it. iReview is a free application; therefore, in order to make money out of its free services, this app may closely cooperate with various advertisers. This feature can be extremely annoying because you may see iReview ads everywhere you go. That is why many respectable security vendors are labeling this program as a potentially unwanted program (PUP), adware or even a malware. In order to make money from advertising, this program is capable of tracking your online activities. If you have added iReview to your system, we strongly recommend removing it before any further damage is done. Besides, this application may be closely related to a company called Yontoo LLC. This company is responsible for releasing Torcho Web (also known as Torcho.com)
How can iReview hijack my computer?
iReview virus may redirect you to sponsored websites or even untrustworthy websites that are filled with malicious files and viruses. We are familiar with the methods that are used in order to distribute this adware. First of all, you can easily download iReview virus from its official website. However, there is another way how this dubious ad-supported program may end up on your computer. You should be very careful when downloading unfamiliar freewares because iReview adware may travel as an additional attachment with such programs. Therefore, in order to protect your PC, you should avoid downloading unfamiliar programs from doubtful websites. What is more, read end-user license agreement (EULA) part of your desired program and choose 'advanced' (or 'custom') installation option. This will give you a better understanding what program you are installing and if this program has any unwanted attachments, such as iReview virus.
How to remove iReview virus from my computer?
Keep in mind that iReview application is not related to Apple company or its products. Follow these simple guidelines and stop iReview redirects from bothering you.
Remove iReview from your computer:
1. Click Start → Control Panel → Uninstall a Program.
2. When in the Add/Remove Programs/Uninstall a Program, look for recently installed/unfamiliar applications, such as iReview (Publisher: Yontoo, LLC) or similar unfamiliar entries.
3. Click 'Uninstall' and then OK to save the changes.
Remove iReview extension from your browsers (Internet Explorer, Mozilla Firefox, and Google Chrome):
Internet Explorer:
1. Open Internet Explorer, go 'Tools' → 'Manage Add-ons' → 'Toolbars and Extensions'.
2. Here, look for unfamiliar entries, such as iReview and click 'uninstall'.
3. Once you remove it, change your start page.
Reset your Internet Explorer (Optional):
1. Open Internet Explorer, click the Gear icon or 'Tools' → 'Internet Options'.
2. Here, go to the 'Advanced' tab and click the 'Reset' button.
3. Go to the 'Reset Internet Explorer settings' → 'Delete personal settings' and click on 'Reset' option.
4. Finally, click 'Close' and OK to save the changes.
Mozilla Firefox:
1. Open Mozilla Firefox, go 'Tools' → 'Add-ons' → 'Extensions'.
2. Find suspicious-looking entries, such as iReview and click 'Uninstall'.
3. After that, change the start page.
Reset your Mozilla Firefox (Optional)
1. Open Mozilla Firefox, go to the 'Help' section → 'Troubleshooting Information'.
2. Here, choose a 'Reset Firefox' for a couple of times and 'Finish'.
Google Chrome:
1. Click the Chrome menu button on the Google Chrome browser, select Tools → Extensions.
2. Here, look for unfamiliar extensions like iReview and get rid of them by clicking on the Recycle Bin.
3. Don't forget to change start page.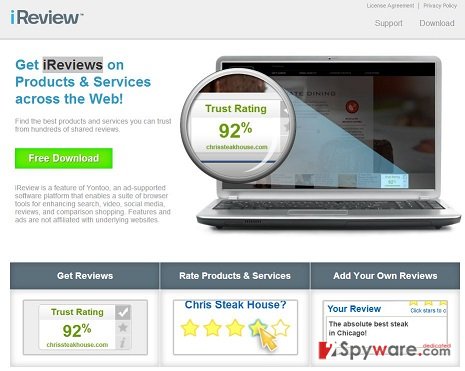 About the author
Removal guides in other languages