Java Update!. How to remove? (Uninstall guide)
'Java Update!' is a fake message, which is used to make people download potentially unwanted programs. If you noticed this notification when browsing on the Internet, be sure to ignore it because it may trick you into installing Delta Search, Conduit, Coupon Drop Down or other potentially unwanted program. As soon as such program enters computer, it modifies its settings and may also start causing various unwanted activities, such as slow down browsers, display continuous pop-up advertisements and initiate redirections to insecure websites. Beware that 'Java Update!' alert can show up for you on various websites, including well-known sites. In order to push people into installing these fake updates, alert blocks these websites but you should never believe it. Please, stay away from Java Update! аlert and never click the OK button.
Where can I see 'Java Update!'?
'Java Update!' can show up for you on any website. However, in most of the cases it appears on illegal websites that are typically filled with such content. It must also be added that this alert may also be caused by some adware, which has accidentally infiltrated your computer. As soon as it alters required system settings, this alert shows up and reports:
Java Update!
It is recommended that you update Java to the latest version to view this page. Please update to continue!
If you see 'Java Update!' alert, you should check your computer with updated anti-spyware because it clearly reveals that your computer might be affected by malware. You should do the same if you clicked the 'OK' button.
How to remove 'Java Update!'?
If you were threatened by 'Java Update!' and clicked the OK button, you should waste no time and scan your computer with one of these applications: Reimage, Plumbytes Anti-MalwareNorton Internet Security. Besides, you shoudl also make sure that your machine is free of adware. In addition, if you noticed Coupon Drop Down or Delta Search, don't hesitate and uninstall these programs.
Alternate Software
We have tested Plumbytes Anti-Malware's efficiency in removing Java Update! (2014-01-14)
We have tested Malwarebytes's efficiency in removing Java Update! (2014-01-14)
We have tested Hitman Pro's efficiency in removing Java Update! (2014-01-14)
We have tested Malwarebytes's efficiency in removing Java Update! (2014-01-14)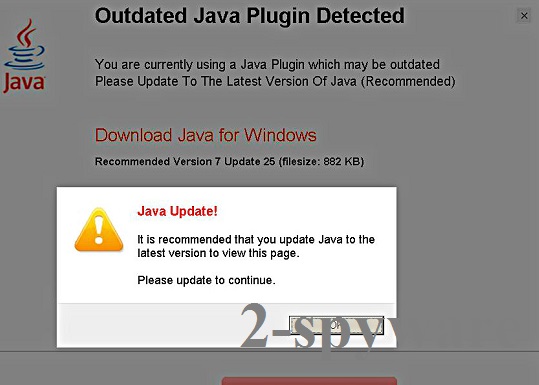 About the author