Jxr.mappingmake.net pop-up ads. How to remove? (Uninstall guide)
removal by Ugnius Kiguolis
-
- Also known as
Jxr.mappingmake.net virus, Jxr.mappingmake.net redirect
| Type:
Adware
What is Jxr.mappingmake.net?
Jxr.mappingmake.net is yet another advertising platform that may be responsible for distributing various adwares and potentially unwanted programs. Usually, if you see Jxr.mappingmake.net ads, you should check your recently installed programs and try to find for unfamiliar entries. This advertising platform is relatively harmless; however, it may transmit malicious content and try to redirect you to some questionable website. That is why you need to be careful. Besides, Jxr.mappingmake.net ads may look like update propositions (You Java is outdated, update now!), fake surveys (Complete a survey and get an iPad!), questionable offerings (Register in this online dating website for free!), and similar doubtful notifications (See your friends on Facebook naked!). As you can imagine, it is strongly recommended not to click such propositions and not to download anything that Jxr.mappingmake.net ads may offer. Keep in mind that Jxr.mappingmake.net may redirect you an unsafe website, and you may catch a virus infection.
How can Jxr.mappingmake.net hijack my computer?
This advertising platform may be related to various adwares. That is how Jxr.mappingmake.net virus may end up on your computer. However, you can easily protect your computer from similar cyber intruders. You just need to check what programs you download and if these programs are safe enough. You should also avoid opening questionable spam emails. Such emails may easily transmit Jxr.mappingmake.net virus or even a bigger threat. Therefore, keep your guard up and attentively check every single program that you are willing to install. For that, choose 'advanced' installation option and closely follow the whole process. Avoid clicking 'next' button or choosing 'basic' (or 'quick') installation option because you can easily overlook such unwanted attachment. Follow the entire installation and decline various toolbars, add-ons and extensions for your browser.
How to stop Jxr.mappingmake.net pop-up ads from appearing?
In order to get rid of this pesky intruder, you need to check your recently installed programs and remove the adware that is related to Jxr.mappingmake.net advertising platform. Follow these steps and you should have no trouble eliminating this annoying trespasser.
Remove the freeware, which is related to Jxr.mappingmake.net
1. Click Start → Control Panel → Uninstall a Program.
2. When in the Add/Remove Programs/Uninstall a Program, look for recently installed/unfamiliar applications, such as Coinis Downloader, SaverAddon, SupTab, WebSaver, Shopping-Addon, ValueApps, Lollipop, PriceMeter, Supra Savings, weDownload Manager, Software Updated Version, DP1815, Video Player, Convert Files for Free, BetterSurf, PureLead, Search Assist, Re-Markable, Lollipop, HD-Total-Plus, Safe Saver, Trusted Web, PassShow, LyricsBuddy-1, PureLeads, Media Player 1.1, RRSavings or similar unfamiliar entries.
3. Click 'Uninstall' and then OK to save the changes.
Remove the extension, which is related to Jxr.mappingmake.net from your browsers (Internet Explorer, Mozilla Firefox, and Google Chrome):
Internet Explorer:
1. Open Internet Explorer, go 'Tools' → 'Manage Add-ons' → 'Toolbars and Extensions'.
2. Here, look for unfamiliar entries and click 'uninstall'.
3. Once you remove it, change your start page.
Reset your Internet Explorer (Optional):
1. Open Internet Explorer, click the Gear icon or 'Tools' → 'Internet Options'.
2. Here, go to the 'Advanced' tab and click the 'Reset' button.
3. Go to the 'Reset Internet Explorer settings' → 'Delete personal settings' and click on 'Reset' option.
4. Finally, click 'Close' and OK to save the changes.
Mozilla Firefox:
1. Open Mozilla Firefox, go 'Tools' → 'Add-ons' → 'Extensions'.
2. Find suspicious-looking entries and click 'Uninstall'.
3. After that, change the start page.
Reset your Mozilla Firefox (Optional):
1. Open Mozilla Firefox, go to the 'Help' section → 'Troubleshooting Information'.
2. Here, choose a 'Reset Firefox' for a couple of times and 'Finish'.
Google Chrome:
1. Click the Chrome menu button on the Google Chrome browser, select Tools → Extensions.
2. Here, look for unfamiliar extensions and get rid of them by clicking on the Recycle Bin.
3. Don't forget to change start page.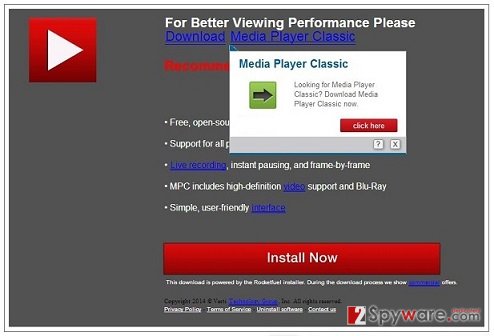 About the author
Removal guides in other languages