Kingdom of Jordan virus. How to remove? (Uninstall guide)
Kingdom of Jordan virus (also known as The Hashemite Kingdom of Jordan Virus) is a dangerous cyber infection, which belongs to the group of ransomware viruses. The main thing, which shows that your PC is infected with such threat, is system's lock down. In addition, Kingdom of Jordan virus replaces computer's desktop with officially-designed notification informing about various crimes detected and asking to pay the fine for that. It becomes clear that this ransomware seeks to mislead its victims that they have a deal with a real Jordanian Police, known as Almakka-tul-urdaniya tul Hashemiya, Mudeera tul Amn`ul Aama. However, such institutions have never been blocking computers in order to make their criminals pay the fine. Please, ignore such misleading notifications that report about illegal activities, such as the use or distribution of copyrighted content, malware, spam and similar files because they seek only to push you into paying 300 US dollars, euros or dinar via cashU service. In reality, these crimes are invented, so you should remove Kingdom of Jordan virus from the system in order to start using your PC normally.
HOW CAN I GET INFECTED WITH Kingdom of Jordan virus?
Kingdom of Jordan virus is spread by trojan horse, which attacks poorly protected system via security vulnerabilities. You can also download this threat in a bundle with other programs and files that have been already infected. Typically, such programs are freeware and shareware. As soon as it gets inside, ransomware blocks the access to the system and shows its fake warning message with a title 'Intebah!' on the screen. This alert reports about various invented activities, such as the use of copyrighted content, distribution of spam or pornographic material. In reality, this message is supposed to scare you and make you believe that you have to pay the fine of 300 dollars. Please, don't do that because you will only lose your money! You must ignore these fake charges and remove Kingdom of Jordan virus from the system.
HOW TO REMOVE Kingdom of Jordan virus?
When infected with Kingdom of Jordan ransomware, you won't be capable to launch your anti-malware at once because this virus blocks every program it finds on board. In order to overcome that and get ability to get on the Internet, you should use one of these methods:
* Flash drive method:
1. Take another machine and use it to download Reimage or other reputable anti-malware program.
2. Update the program and put into the USB drive or simple CD.
3. In the meanwhile, reboot your infected machine to Safe Mode with command prompt and stick USB drive in it.
4. Reboot computer infected with Kingdom of Jordan virus once more and run a full system scan.
* Users infected with Kingdom of Jordan virus are allowed to access other accounts on their Windows systems. If one of such accounts has administrator rights, you should be capable to launch anti-malware program.
* Try to deny the Flash to make your ransomware stop function as intended. In order to disable the Flash, go to Macromedia support and select 'Deny': http://www.macromedia.com/support/documentation/en/flashplayer/help/help09.html. After doing that, run a full system scan with anti-malware program.
* Manual Kingdom of Jordan virus removal:
Reboot you infected PC to 'Safe mode with command prompt' to disable Kingdom of Jordan virus (this should be working with all versions of this threat)
Run Regedit
Search for WinLogon Entries and write down all the files that are not explorer.exe or blank. Replace them with explorer.exe.
Search the registry for these files you have written down and delete the registry keys referencing the files.
Reboot and run a full system scan with updated Reimage to remove remaining virus files.
Alternate Software
We have tested Plumbytes Anti-Malware's efficiency in removing Kingdom of Jordan virus (2013-04-23)
We have tested Malwarebytes's efficiency in removing Kingdom of Jordan virus (2013-04-23)
We have tested Hitman Pro's efficiency in removing Kingdom of Jordan virus (2013-04-23)
We have tested Malwarebytes's efficiency in removing Kingdom of Jordan virus (2013-04-23)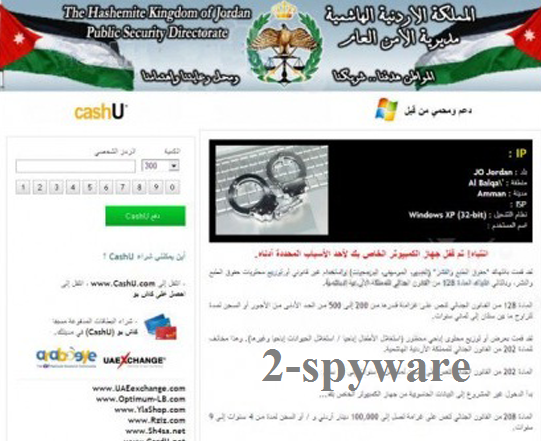 Kingdom of Jordan virus manual removal:
Kill processes:
[random].exe
Delete files:
[random].exe
About the author