Kriminalpolisenheten virus. How to remove? (Uninstall guide)
Kriminalpolisenheten virus (can also be found as Politiets Sikkerhetstjeneste virus) is a sneaky ransomware, which is spread by trojan horse. Once it gets on its target PC, this trojan modifies some of system's parameters and blocks it down. It should be mentioned that system's block appears every time you reboot your computer, so it's really hard to avoid it. In addition, this trojan is responsible for downloading malicious ransomware's files onto the system. As a result, Kriminalpolisenheten virus gets ability to show its misleading alert that covers entire PC's desktop and reports about various law violations. Those who were infected with this or similar threat know that you can expect reports about illegal downloads, the use of copyrighted content, distribution of spam and similar law violations. Please, don't believe this cyber infection because it seeks only to make pay an invented fine. We highly recommended removing Kriminalpolisenheten virus from the system as soon as it starts showing up there.
HOW CAN I GET INFECTED WITH Kriminalpolisenheten virus?
As we have already mentioned, Kriminalpolisenheten virus is distributed by trojan horse, which is responsible for downloading malicious files, installing ransomware and similar activities. If you want to prevent its infiltration, avoid illegal websites, freeware/shareware and spam. If this virus manages to get inside, it blocks down the system right after that. It hides entire PC's desktop and shows its own warning instead. This warning is set to report about various law violations and ask to pay the fine of NOK 1000 for unblocking the system. However, if you pay the fine, you will still find your computer blocked. If you want to save your money and avoid unwanted activities that can be caused by this malicious parasite, we recommend removing Kriminalpolisenheten virus from PC as soon as possible.
HOW TO REMOVE Kriminalpolisenheten virus?
If you are infected with Kriminalpolisenheten virus or other ransomware parasite, there is a huge chance that you are blocked from getting on the Internet and can't download anti-malware program. In order to fool your virus first and get ability to run anti-malware on your computer, we recommend following these options:
* Flash drive method:
1. Take another machine and use it to download Reimage or other reputable anti-malware program, such as Malwarebytes Malwarebytes or Plumbytes Anti-MalwareNorton Internet Security.
2. Update the program and put into the USB drive or simple CD.
3. In the meanwhile, reboot your infected machine to Safe Mode with command prompt and stick USB drive in it.
4. Reboot computer infected with Kriminalpolisenheten virus once more and run a full system scan.
* Users infected with Ukash viruses are allowed to access other accounts on their Windows systems. If one of such accounts has administrator rights, you should be capable to launch anti-malware program.
* Try to deny the Flash to make your ransomware stop function as intended. In order to disable the Flash, go to Macromedia support and select 'Deny': http://www.macromedia.com/support/documentation/en/flashplayer/help/help09.html. After doing that, run a full system scan with anti-malware program.
* Manual Kriminalpolisenheten virus removal:
Reboot you infected PC to 'Safe mode with command prompt' to disable Ukash virus (this should be working with all versions of this threat)
Run Regedit
Search for WinLogon Entries and write down all the files that are not explorer.exe or blank. Replace them with explorer.exe.
Search the registry for these files you have written down and delete the registry keys referencing the files.
Reboot and run a full system scan with updated Reimage to remove remaining virus files.
Alternate Software
We have tested Plumbytes Anti-Malware's efficiency in removing Kriminalpolisenheten virus (2013-09-24)
We have tested Malwarebytes's efficiency in removing Kriminalpolisenheten virus (2013-09-24)
We have tested Hitman Pro's efficiency in removing Kriminalpolisenheten virus (2013-09-24)
We have tested Malwarebytes's efficiency in removing Kriminalpolisenheten virus (2013-09-24)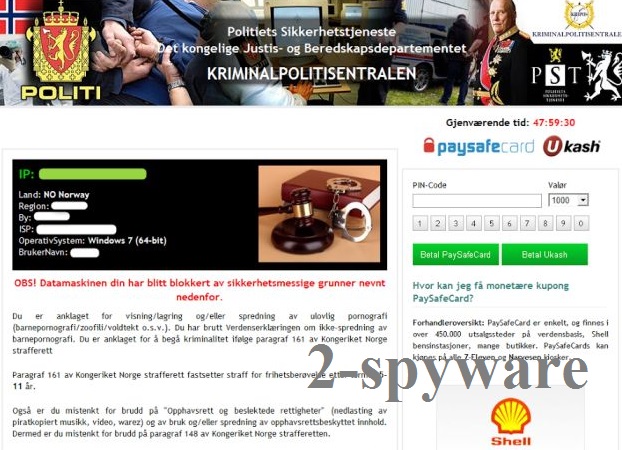 Kriminalpolisenheten virus manual removal:
Kill processes:
[random].exe
Delete files:
[random].exe
About the author
Removal guides in other languages