Latvian Police Virus. How to remove? (Uninstall guide)
Latvian Police Virus is a ransomware infection, which can get inside user's computer without any permission asked. Typically, such threats are spread in those countries that use the same language as a misleading alert, which is displayed for the victim instead his/hers normal desktop. After announcing about Ukash threats designed for USA, UK, Germany, France and similar world-leading countries, we have been surprised that scammers have decided to pay attention to the smaller European countries as well. If you live somewhere in this region and happen to receive an alert titled Latvijas Policijas , be sure that you have the Latvian Police Virus on your PC. You have to ignore all the things it says and never pay the fine. It can be predetermined that Latvian Police Virus will accuse you for violating a law and will explain that this was the reason why your computer is now blocked. For unblocking it, you will be asked to pay the fine of 50 LVL. Please, never do that and remove Latvijas Policijas virus instead.
HOW CAN I GET INFECTED WITH Latvian Police Virus?
Latvian Police Virus is spread by trojan horse, which can easily be downloaded together with freeware, shareware, fake video and audio codecs. After being asked to update the codec in order to watch something online, you can easily get infected with this Ukash threat. As soon as it gets inside the system, it blocks a computer and displays a huge alert instead of victim's desktop. This alert says:
Jūsu dators ir bloķets!
(…)
Naudas soda summa ir 50 LVL. Apmaksa jāveic 48 stundu laikā, pec pārkāpšanas atklāšanas.
Under no circumstances you should fall into this trickery! You have to remove Latvian Police virus immediately after you notice its alert. However, any users find serious problems when trying to do that because they are completely blocked. So,
HOW TO REMOVE Latvian Police Virus?
When trying to remove Latvian Police virus or other Ukash threat, you have to unblock the system. We have created some special steps that should clearly explain how you can do that:
* Flash drive method:
1. Take another machine and use it to download Reimage or other reputable anti-malware program.
2. Update the program and put into the USB drive or simple CD.
3. In the meanwhile, reboot your infected machine to Safe Mode with command prompt and stick USB drive in it.
4. Reboot computer infected with Ukash virus once more and run a full system scan.
* Users infected with Ukash viruses are allowed to access other accounts on their Windows systems. If one of such accounts has administrator rights, you should be capable to launch anti-malware program.
* Try to deny the Flash to make your ransomware stop function as intended. In order to disable the Flash, go to Macromedia support and select 'Deny': http://www.macromedia.com/support/documentation/en/flashplayer/help/help09.html. After doing that, run a full system scan with anti-malware program.
* Manual Ukash virus removal (special skills needed!):
Reboot you infected PC to 'Safe mode with command prompt' to disable Ukash virus (this should be working with all versions of this threat)
Run Regedit
Search for WinLogon Entries and write down all the files that are not explorer.exe or blank. Replace them with explorer.exe.
Search the registry for these files you have written down and delete the registry keys referencing the files.
Reboot and run a full system scan with updated SpyHunter to remove remaining virus files.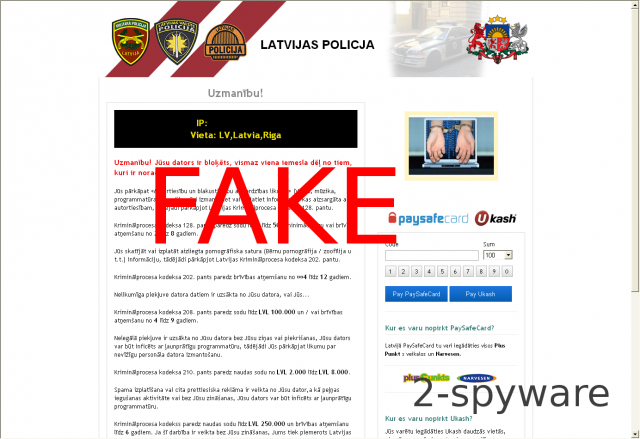 Latvian Police Virus manual removal:
Kill processes:
[random].exe
About the author
Removal guides in other languages