Latvijas Policijas Ukash Virus. How to remove? (Uninstall guide)
Latvijas Policijas Ukash Virus is a dangerous ransomware infection, which is also widely called as Latvian Police Virus. As you must have understood, it is designed for a small country in Europe, Latvia. This program belongs to Ukash group of viruses that all seek to pursue user for paying an invented fine. Seeking this aim, computer is blocked and user is left without an Internet connection and ability to reach his programs and files. Instead of his desktop, victim sees only a large alert, which reports about law violations and asks to pay 50 LVL to unlock the machine. Latvijas Policijas Ukash Virus has many similar versions that are designed for other European and American countries. Under no circumstances you should pay the fine, which is asked by Latvijas Policijas Ukash Virus . You must remove this threat instead.
HOW CAN I GET INFECTED WITH Latvijas Policijas Ukash Virus?
Latvijas Policijas Ukash Virus is spread by Trojan horse infection, which can be downloaded without any sign. Typically, such threats hide inside freeware, shareware, unofficial software updates, spam email attachments and other downloads that have been altered by hackers. As soon as it gets inside the system, it blocks the PC and demands the ransom in local language. In order to look more serious, it shows Latvian Police logos and similar things. Here's how it looks:
Jūsu dators ir bloķets!
(…)
Naudas soda summa ir 50 LVL. Apmaksa jāveic 48 stundu laikā, pec pārkāpšanas atklāšanas.
Basically, this message stays on the desktop no matter what you do. Some people have even tried to pay the fine in order to get their computers unlocked. However, this definitely doesn't help to unlock compute and forget about this threat. In order to remove Latvijas Policijas Ukash Virus, we have designed some special steps that should be helpful when trying to unlock computer and launchanti-spyware program.
HOW TO REMOVE Latvijas Policijas Ukash Virus?
To unlock your computer after an infiltration of Ukash threat, you have to unblock the system. We have created some special steps that should clearly explain how you can do that:
* Flash drive method:
1. Take another machine and use it to download Reimage or other reputable anti-malware program.
2. Update the program and put into the USB drive or simple CD.
3. In the meanwhile, reboot your infected machine to Safe Mode with command prompt and stick USB drive in it.
4. Reboot computer infected with Ukash virus once more and run a full system scan.
* Users infected with Ukash viruses are allowed to access other accounts on their Windows systems. If one of such accounts has administrator rights, you should be capable to launch anti-malware program.
* Try to deny the Flash to make your ransomware stop function as intended. In order to disable the Flash, go to Macromedia support and select 'Deny': http://www.macromedia.com/support/documentation/en/flashplayer/help/help09.html. After doing that, run a full system scan with anti-malware program.
* Manual Ukash virus removal (special skills needed!):
Reboot you infected PC to 'Safe mode with command prompt' to disable Ukash virus (this should be working with all versions of this threat)
Run Regedit
Search for WinLogon Entries and write down all the files that are not explorer.exe or blank. Replace them with explorer.exe.
Search the registry for these files you have written down and delete the registry keys referencing the files.
Reboot and run a full system scan with updated Reimage to remove remaining virus files.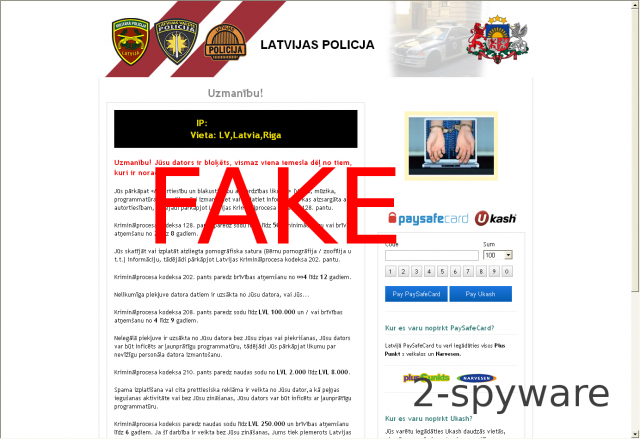 About the author