Latvijas Valsts Policija virus. How to remove? (Uninstall guide)
Latvijas Valsts Policija virus is an aggressively designed infection, which will lock your computer down and then will claim that that's because of watching copyrighted content and spreading malicious files. Additionally, the virus asks for a ransom of 100 euro or 50 LVL to unblock the machine and forget these crimes. However, it never does what it promises.. The greatest danger of getting infected with this ransomware threat is for those PC users who live in Latvia. However, there are many other variants of this virus, such as FBI virus or Metropolitan Police virus, that are spread in other world's countries. Please, do NOT think that police has started blocking computers down in order to make their owners pay the fines! You have to ignore Latvijas Valsts Policija virus and remove it from the system without any delay.
HOW CAN I GET INFECTED WITH Latvijas Valsts Policija virus?
Just like Latvijas Policijas Ukash virus, Latvijas Valsts Policija virus enters the system through its backdoors. Typically, it gets inside once you click on malicious link or download an infected program. As soon as it manages to enter the PC, ransomware performs certain changes that bock the system down as soon as PC is rebooted. Additionally, Latvijas Valsts Policija virus shows its fake alert, which is filled with various accusations, including the use of copyrighted content or distribution of malware:
Latvijas Republikas Iekšlietu ministrijas
Latvijas Valsts Policija
Informācijas centrs
UZMANĪBU! Jūsu dators ir bloķets, vismaz viena iemesla deļ no tiem, kuri ir noradīti zemāk.Jus pārkāpt autortiesību un blakustiesību aizsardzības likum (Video, mūzika, programmatura) un nelikumīgi izmantojiet vai izplatiet informacīju, kas aizsargāta ar autortiesībam, tādejādi pārkāpjot Latvijas Kriminālprocesa kodeksa 128. pantu.
(…..)
Soda apmers il LVL 50 vai 100€. Jūsu varat maksāt sodu pār Paysafecard vai Ukash.
Please, do NOT believe this alert because it's a huge lie that may lead you to the money loss. As soon as you start seeing a huge notification, you should run a trusted anti-malware and find all infected files on your compyter. If you need more information for Latvijas Valsts Policija virus removal, follow the steps given below:
HOW TO REMOVE Latvijas Valsts Policija virus?
In order to unlock the system and remove Latvijas Valsts Policija virus:
* Flash drive method:
1. Take another machine and use it to download Reimage or other reputable anti-malware program.
2. Update the program and put into the USB drive or simple CD.
3. In the meanwhile, reboot your infected machine to Safe Mode with command prompt and stick USB drive in it.
4. Reboot computer infected with this virus once more and run a full system scan.
* Users infected with Ukash viruses are allowed to access other accounts on their Windows systems. If one of such accounts has administrator rights, you should be capable to launch anti-malware program.
* Try to deny the Flash to make your ransomware stop function as intended. In order to disable the Flash, go to Macromedia support and select 'Deny': http://www.macromedia.com/support/documentation/en/flashplayer/help/help09.html. After doing that, run a full system scan with anti-malware program.
* Manual Latvijas Valsts Policija virus removal:
Reboot you infected PC to 'Safe mode with command prompt' to disable Ukash virus (this should be working with all versions of this threat)
Run Regedit
Search for WinLogon Entries and write down all the files that are not explorer.exe or blank. Replace them with explorer.exe.
Search the registry for these files you have written down and delete the registry keys referencing the files.
Reboot and run a full system scan with updated Reimage to remove remaining virus files.
Alternate Software
We have tested Malwarebytes's efficiency in removing Latvijas Valsts Policija virus (2013-05-16)
We have tested Malwarebytes's efficiency in removing Latvijas Valsts Policija virus (2013-05-16)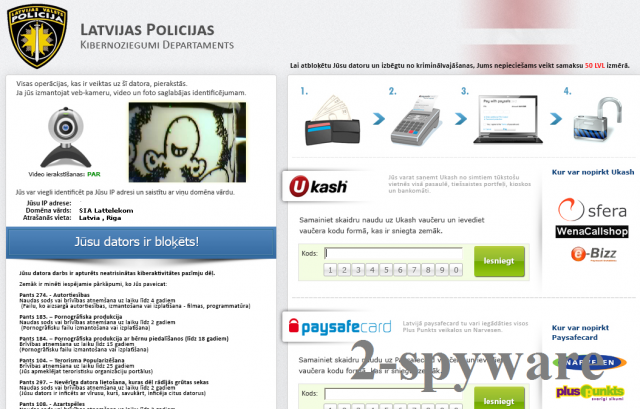 Latvijas Valsts Policija virus manual removal:
Kill processes:
[random].exe
Delete files:
[random].exe
About the author