Remove LinkedIn Facebook spam (Improved Guide)
Why LinkedIn Facebook spam is a serious issue?
With over 433 million members, LinkedIn is a perfect platform for different fraudsters to carry out cyber attacks on the unsuspecting users. If you ever had a LinkedIn profile yourself, you are in danger of becoming a victim of a fraud as well. On our website we have already discussed a virus related to LinkedIn, which enters the users computers in a form of a registration confirmation email but, in reality, this email carries a virus which will redirect you to hazardous sites, where your computer can easily get infected with some minor malware and even more serious viruses too. Apart from LinkedIn the scammers will use well-known names such as Facebook, Amazon or eBay to trick people into sharing their private details and extort as much benefit as possible. Therefore, in order you keep your personal information safe and your computer virus-free, you must be careful while browsing online and should obtain a reputable antivirus software, such as Reimage, to provide you with some extra protection while browsing online.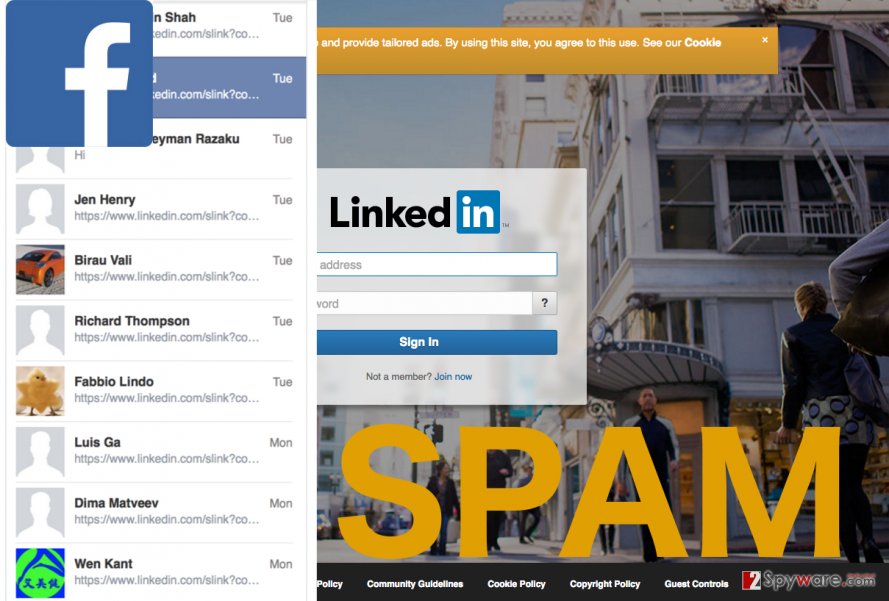 Questions about LinkedIn Facebook spam
Quite recently people on the cyber security forums started reporting excessive spamming on as another major issue related to LinkedIn. First of all, a major drawback of the LinkedIn website is that it does not have a spam filter in its inbox to separate legitimate correspondence from the potentially dangerous. So the scammers may also use the information you provide on your account to spam you with tempting links and contact requests. And since this site is usually considered a safe place to broaden your business connections, the users do not suspect that they might be targeted and often click on the mentioned links or accept requests. It is also interesting that the spammers may use the emails or other social profile information to spam you outside the LinkedIn as well. You may find that your Facebook inbox is stuffed with links, suggesting you to take a look at some LinkedIn profile or accept a request from a new contact. By no means should you interact with such links because you never know where exactly you will be redirected upon after clicking them. It is essentially a principle used by other Facebook viruses, which drop the malicious link in the user's inbox and hope that the user will click on this link and will get infected. Therefore, we want to emphasize once more that obtaining a reputable antivirus suite is necessary because the Internet is full of dangers which are often just a click away.
What can you do to stop LinkedIn Facebook spam?
Having a lot of connections on this leading social networking site can greatly benefit your future career possibilities or improve your business. However, you should not blindly accept all the requests or click on the links you receive in your inbox. Especially be careful if these requests arrive at your inbox on unrelated sites such as Facebook. We advise you simply to ignore them. However, if you keep receiving such messages on the mentioned social networking site continuously, you should not hesitate and report this issue to the Facebook help center. Also, it is beneficial to inform the LinkedIn representatives as well, because the legitimate websites should not be used as a tool for the Internet scammers to carry out their malicious intentions.
Alternative Software
Different security software includes different virus database. If you didn't succeed in finding malware with Reimage, try running alternative scan with SpyHunter 5.
Alternative Software
Different security software includes different virus database. If you didn't succeed in finding malware with Reimage, try running alternative scan with Combo Cleaner.
About the author

May 9th, 2016 at 9:50 am

I received like 10 messages like these the other day. Good thing that Facebook treats it as spam .Or else itd be a nightmare!


May 9th, 2016 at 9:52 am

This really looks suspicious, unless of course you connect the two accounts together, that would explain why you get notifications on facebook