Live Enterprise Suite. How to remove? (Uninstall guide)
Live Enterprise Suite is a fake anti-spyware program that is distributed through the use of fake online scanners that claim to scan your PC for malware. Such fake scanners display premeditated threats and prompt to install removal tool in order to remove those threats. That's how this fake software usually enters a computer. LiveEnterpriseSuite virus is a clone of Internet Antivirus Pro. These two programs are identical and basically use the same misleading methods to make you think that your computer is infected. On the other hand, the new one is even more aggressive, especially when it comes to self-protection. It blocks legitimate anti-spyware programs and disables particular Windows functions, usually Task Manager and Regedit, to protect itself from being removed. You will have to complete additional steps in order to remove rootkit infection and trojans that block malware removal tools. Please read below how to remove Live Enterprise Suite infection.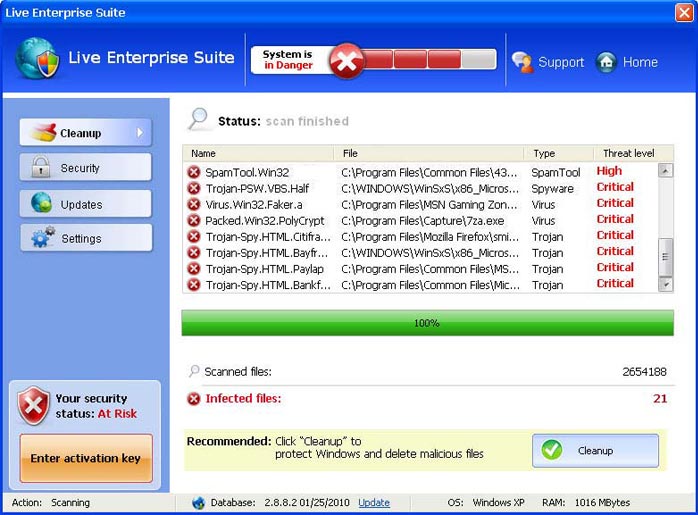 [Figure 1. Live Enterprise SuiteLive Enterprise Suite graphical user interface]
Once installed, Live Enterprise Suite will imitate a system scan and report many false system security threats to scare you into thinking that your computer is infected with viruses, worms and other malware. Of course, the only real infection is LiveEnterprise Suite itself. It will ask you to pay for a full version of the program many times, that's for sure, because the main goal of this scareware is to steal money from inexperienced users. Furthermore, it will display fake security alerts and pop-ups from Windows Task Bar claiming that your computer is infected with self restoring Trojan virus. The full message reads: (please note that the scammers didn't change the title of this fake pop-up. It's still Internet Antivirus Pro)
Internet Antivirus Pro Tray Agent
Self restoring Trojan virus that can lead to total system crash has been detected on your PC. Click here to remove this harmful virus immediately with Internet Antivirus Pro.
And another one:
System Alert
Your PC is still infected with dangerous viruses. Activate antivirus protection to prevent data loss and to avoid the theft of your credit card details. Click here to activate protection.
There are more fake notifications, not only these two. As you can see, Live EnterpriseSuite will do all its best to trick you and to make you purchase the bogus software. Please don't buy it. Otherwise you will simply lose you money. Instead, remove it upon detection. The rogue program can be removed either manually or with an automatic removal tool which is provided below in this page. However, please note that manual removal is not the best option in this case. Remember that Live Enterprise Suite comes with Trojans. Those Trojans have random names. We strongly recommend you to download the removal tool and run a full system scan. If you can't do this in Normal Mode then reboot your computer in Safe Mode with Networking and download removal tool again.
How to boot a computer in Safe Mode with Networking:
1. Restart your computer.
2. As your computer restarts but before Windows launches, tap "F8" key constantly.
3. Use the arrow keys to highlight the "Safe Mode with Networking" option as shown in the image below, and then press ENTER.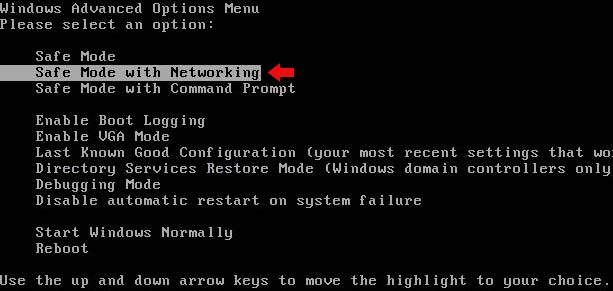 Live Enterprise Suite manual removal:
Kill processes:
IAPro.exe
unins000.exe
Delete registry values:
HKEY_LOCAL_MACHINESOFTWAREMicrosoftWindowsCurrentVersionUninstall567 1.4.2.0_is1
HKEY_LOCAL_MACHINESOFTWAREMicrosoftWindowsCurrentVersionUninstallLive Enterprise Suite_is1
HKEY_LOCAL_MACHINESOFTWAREMicrosoftWindows NTCurrentVersionImage File Execution Optionstaskmgr.exe
HKEY_LOCAL_MACHINESYSTEMControlSet001EnumRootLEGACY_HTGRDENGINE
HKEY_LOCAL_MACHINESYSTEMControlSet001ServicesHTGrdEngine
HKEY_LOCAL_MACHINESYSTEMCurrentControlSetEnumRootLEGACY_HTGRDENGINE
HKEY_LOCAL_MACHINESYSTEMCurrentControlSetServicesHTGrdEngine
HKEY_CURRENT_USERSoftwareMicrosoftFTP "SearchDir" = "c:program filesInternet Antivirus Pro"
HKEY_CURRENT_USERSoftwareMicrosoftWindowsCurrentVersionPoliciesExplorerRun "
"

HKEY_CURRENT_USERSoftwareMicrosoftWindowsCurrentVersionRun "Live Enterprise Suite"

HKEY_CURRENT_USERSoftwareMicrosoftWindowsCurrentVersionRun "Microsoft Windows logon process"

HKEY_LOCAL_MACHINESOFTWAREMicrosoftInternet ExplorerMainFeatureControlFEATURE_BROWSER_EMULATION "svchost.exe"

HKEY_LOCAL_MACHINESOFTWAREMicrosoftWindowsCurrentVersionInternet Settings5.0User Agent "URIAPRO[]"

HKEY_LOCAL_MACHINESOFTWAREMicrosoftWindowsCurrentVersionInternet SettingsUser Agent "URIAPRO[]"

HKEY_LOCAL_MACHINESOFTWAREMicrosoftWindows NTCurrentVersionImage File Execution Optionstaskmgr.exe "Debugger"

HKEY_LOCAL_MACHINESOFTWAREMicrosoftWindows NTCurrentVersionImage File Execution Optionstaskmgr.exe "RealDebugger"



Unregister DLLs:


WMILib.dll

C:\WINDOWS\system32\[random path].dll



Delete files:


Internet Antivirus Pro.lnk

Internet Antivirus Pro Home Page.lnk

Purchase License.lnk

Uninstall Internet Antivirus Pro.lnk

settings.ini

uill.ini

unins000.exe

updateloadlist.ini

config.cfg

Timeout.inf

Urls.inf

winlogon.exe

log.txt

pguard.ini

services.exe

atbyin.exe

activate.ico

Explorer.ico

IAPro.exe

unins000.dat

uninstall.ico

working.log

DBInfo.ver

ia080614.db

lists.ini

WMILib.dll

IAEs.lng

IAFr.lng

IAGer.lng

IAIt.lng



Delete directories:


C:Documents and SettingsAll UsersStart MenuProgramsInternet Antivirus Pro

%UserProfile%Application DataLive Enterprise Suite

C:Program FilesInternet Antivirus Pro

C:Program FilesCommon Fileschar.exe

C:Program FilesCommon Filescalc.exe


About the author