Remove Live Security Professional
Live Security Professional is another dangerous threat from Winwebsec family. This family has already became famous for its Live Security Platinum and the latest rogue, which is called System Progressive Protection. It seems that scammers have used the same GUI for this threat and designed it for the same misleading activity – Live Security Professional also tries to create an image that user is infected with numerous viruses and that he needs to purchase its license. However, you should purchase it only when you don't care about your computer's security. Just like the trialware, licensed Live Security Professional's version must be removed from the system without any delay. It has no virus database and seeks only to steal the money from its victims. Besides, it can easily steal credit card details after making the payment for its license! As you can see, Live Security Professional is a real threat that can easily initiate serious problems.
HOW CAN I GET INFECTED WITH Live Security Professional?
Being similar to other rogue programs from Winwebsec, there is no wonder why this program uses the same means of distribution. Our research center warns that Live Security Professional can easily be downloaded together with freeware, shareware, spam email attachments or other downloads that were infected primary. Once inside the system, Live Security Professional initiates some minor changes of the system and starts its misleading campaign after you reboot our computer. In order to get the money, it claims to be an efficient instrument for keeping computer safe from viruses. However, this statement is definitely untrue. You must ignore every alert you get from Live Security Professional. Here are some examples:
Warning: Your computer is infected
Detected spyware infection!
Click this message to install the last update of security software…
Live Security Professional
Warning! 38 infections found!
Last scan detected malicious programs (6), viruses (22), adware (2), spyware (6), tracking cookies (2)
It is highly recommended to remove these threats from your computer immediately!
Threat detected!
Security Alert! Your computer was found to be infected with privacy-threatening software. Private data may get stolen and system damage may be severe.Recover your PC from the infection right now, perform a security scan.
When infected with Live Security Professional, you will be bombarded by its alerts, reporting about numerous security issues on your PC. In order to stop this activity, you must remove Live Security Professional from your computer. Otherwise, you can not only lose your money or get infected with more threats – this rogue anti-spyware will slow your PC down and will initiate browser redirections or the loss of your personal information.
HOW CAN I REMOVE Live Security Professional?
If you can get on the Internet, go and download one of these effective anti-malware programs: SpyHunterCombo Cleaner, Reimage, Malwarebytes Malwarebytes. You should update them before running a scan to have a full virus data base! However, many rogues have been found to block computer from launching legitimate security programs, so here are some tips that should be helpful to stop Live Security Professional from working:
* Try killing malware process by rebooting your PC to Safe Mode with networking and opening Task Manager (ctrl+shift+esc). Look for [random letters or/and numbers].exe or protector[random characters].exe processes, stop them and run a full system scan with anti-malware. Don't forget to scan your PC in normal mode as well to make sure that virus is gone!
* Try using this registration code that has been working with earlier WinWebSec family members: AA39754E-715219CE.
Alternative Software
Different security software includes different virus database. If you didn't succeed in finding malware with Reimage, try running alternative scan with SpyHunter.
Alternative Software
Different security software includes different virus database. If you didn't succeed in finding malware with Reimage, try running alternative scan with Combo Cleaner.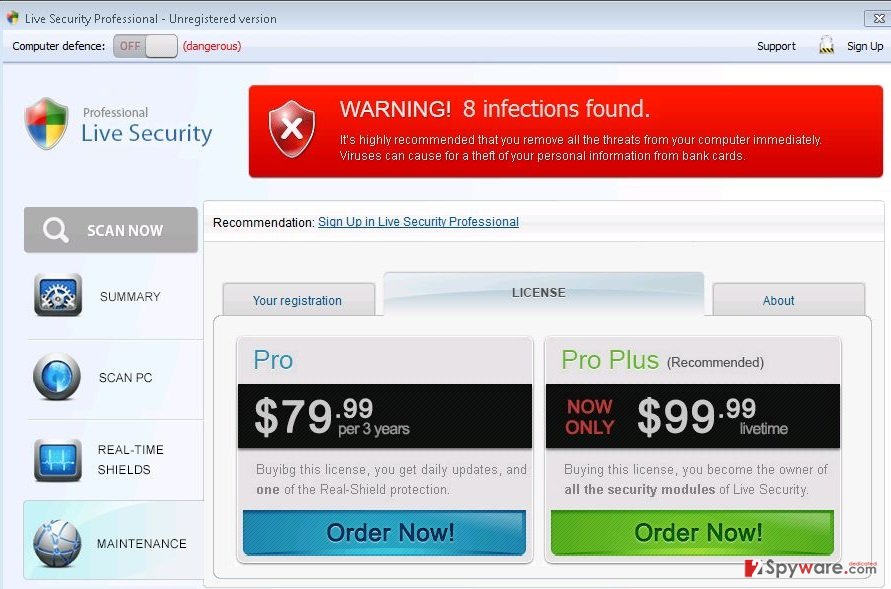 About the author
Removal guides in other languages

July 27th, 2013 at 10:08 pm

Someone please help, Live Security Proffesional has infected my laptop and is not letting me connect to any network, which isnt allowing me to download any virus protectors, Im posting through my ipod


September 3rd, 2013 at 11:33 am

I tried this and it worked. hey HIGHC40Z, go to start menu -> all programs and search for the startup folder. you will find a registry file named like maybe "e04.." something like that, the name looks really strange. delete that file. now reboot the computer. update your antivirus (i recommend avira free) and run a thorough scan of your computer. problem solved. what actually happened to me : actually this malware wasnt letting me open any programs at all and removal of that registry file from startup folder prevents its execution during reboot so that you can run your antivirus and other software.


September 3rd, 2013 at 11:41 am

I havent tried this, but you may wanna conduct a system restore through the safe mode to a date prior to the infection or a date prior to the latest software you have installed (the software may have brought the malware with it).


September 21st, 2013 at 10:47 pm

its not letting me open the file, it is blocking it 🙁


May 9th, 2014 at 1:42 pm

this virus is preventing me from using any and all of my scans tools …it lets me download the removal tool but not open it. It also is preventing me from switching to safe mode