Lookoutmovies.com. How to remove? (Uninstall guide)
Lookoutmovies.com is a totally misleading website, which is related to browser hijackers. Once one of such viruses infiltrates the system, it initiates various modifications and starts making its victim visit affiliate websites or install potentially unwanted programs on his/hers computer. If you noticed Lookoutmovies.com redirects, you should stay away from the sites that you are redirected to because no one can guarantee that they are safe. Also, ignore all popup ads and similar unexpected notifications. If you, during your browsing, received a Lookoutmovies.com popup ad, telling that you should update your Flash, FLV Player or other application, you should stay away from it as far as you can. If you think that some of your programs are out dated, you should go straight to their official websites and download updates.
How can Lookoutmovies.com hijack my computer?
Lookoutmovies.com virus is spread using a very questionable technique, which is called 'bundling'. In short, this method relies on freeware and shareware, such as download managers, PDF creators and similar applications. If you decide to download one of such programs and fail to monitor its installation, you can easily let Lookoutmovies.com hijack each of web browsers that can be found on your computer. Please, make sure you choose Custom or Advanced installation when downloading questionable programs on your computer! After that, make sure you find all check marks that say that you agree to install additional downloads and uncheck them. If you think that Lookoutmovies.com has already infiltrated your PC, follow a guide given below.
How to remove Lookoutmovies.com?
Technically, Lookoutmovies.com can't pose harm to any computer. However, it can easily initiate havoc by displaying non-stoppable ads and initiating annoying redirects to unknown websites. If you want to avoid them, you should use these instructions:
1. Click Start -> Control Panel -> Uninstall a Program.
2. When in the Add/Remove Programs/Uninstall a Program, look for recently installed/unfamiliar applications, such as PriceMeter, Supra Savings, weDownload Manager, PureLead, Search Assist, Re-Markable, Zombie Alert, Wajam, Coupon Server, Lollipop, HD-Total-Plus, UTUobEAdaBlock, Safe Saver, SupTab, ValueApps, Lollipop, Software Updated Version, DP1815, Video Player, Convert Files for Free, Plus-HD 1.3, BetterSurf, Trusted Web, PassShow, LyricsBuddy-1, PureLeads, Media Player 1.1, RRSavings, Feven Pro 1.2, Websteroids, Savings Bull, HD-Plus 3.5, Re-markit or similar unfamiliar entries.
3. Click 'Uninstall' and then OK to save the changes.
Reset your browsers (Google Chrome, Mozilla Firefox and Internet Explorer):
Internet Explorer:
1. Open Internet Explorer, click the Gear icon or 'Tools' → 'Internet Options'.
2. Here, go to the 'Advanced' tab and click the 'Reset' button.
3. Go to the 'Reset Internet Explorer settings' → 'Delete personal settings' and click on 'Reset' option.
4. Finally, click 'Close' and OK to save the changes.
Mozilla Firefox:
1. Open Mozilla Firefox, go to the 'Help' section → 'Troubleshooting Information'.
2. Here, choose a 'Reset Firefox' for a couple of times and 'Finish'.
Google Chrome:
1. Click the Chrome menu button on the Google Chrome browser, select 'Tools' → 'Extensions'.
2. Here, look for PriceMeter, Supra savings and other unfamiliar entries.
3. Select each of them and choose Trash can icon to delete them.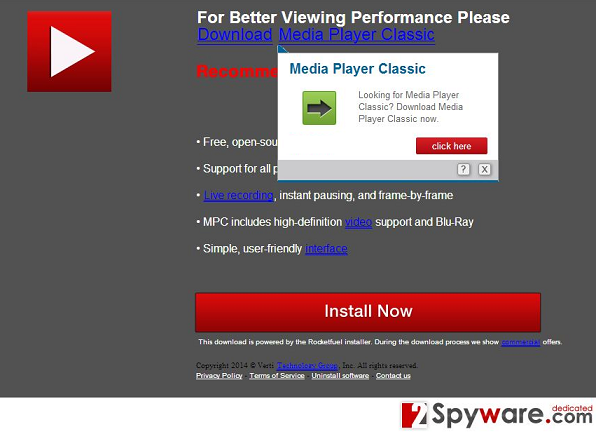 About the author