Malta Police Association virus. How to remove? (Uninstall guide)
Malta Police Association virus is a dangerous ransomware, which seeks to mislead computer users who live in Malta. Typically, this virus can be recognized from a huge notification, so if your PC's screen is covered with a message saying 'Malta Police Association; Pulizija ta' Malta', be sure that you can safely ignore it. You don't have a deal with your local Police because you are infected with a dangerous ransomware virus, which seeks to make you pay an invented fine. In order to push you into doing that, Malta Police Association virus also blocks computer's system and then starts showing its fake alert. Similarly to Malta Police Force virus, it reveals computer's IP address and location, and then declares that this machine was noticed for various illegal activities, such as the use of copyrighted content or distribution of malware. Please, don't fal for this scam and remove Malta Police Association virus without any delay.
HOW CAN I GET INFECTED WITH Malta Police Association virus?
Malta Police Association virus is spread by trojan horse, which uses security vulnerabilities for getting inside undetected. Once it gets there, this trojan downloads infected files and locks computer down. Be aware that you are not safe from this virus if you don't live in Malta. There are lots of similar viruses spreading around that all use different interfaces and languages and are designed for almost each country of the world. The main sign how you can know that your PC is infected with Malta Police Association virus is this notification:
ATTENTION! Your PC is blocked due to at least one of the reasons specified below.
You have been viewing or distributing prohibited Pornographic content (Child Porn/Zoophilia and etc). Thus violating article 202 of the Criminal Code of Republic of Malta.
(…)
Fines may only be paid with 72 hours after the infringement. As soon as 72 hours elapse, the possiblity to pay the fine expires, and a criminal case is initiated against you automatically within the next 72 hours!
The amount of fine is €100. You can pay a fine PaySafeCard or Ukash.
Remember, the main way how you can avoid getting infected with Malta Police Association virus is making sure that your PC is fully protected. That means that it has anti-virus and anti-spyware programs installed on it. Additionally, you should stop opening Spam, visiting illegal sites and using freeware because these are the main sources of Trojan horse, which spreads Malta Police Association virus. If you are infected, follow the guide which is given below:
HOW TO REMOVE Malta Police Association virus?
If you can't launch your anti-spyware or get on the Internet and download it, use one of these methods to unblock your computer:
* Set the date to the previous time when you haven't this threat on your computer.
* Flash drive method:
1. Take another machine and use it to download Reimage or other reputable anti-malware program.
2. Update the program and put into the USB drive or simple CD.
3. In the meanwhile, reboot your infected machine to Safe Mode with command prompt and stick USB drive in it.
4. Reboot computer infected with this ransomware once more and run a full system scan.
* Users infected with any of Malta Police Association virus are allowed to access other accounts on their Windows systems. If one of such accounts has administrator rights, you should be capable to launch anti-malware program.
* Try to deny the Flash to make your ransomware stop function as intended. In order to disable the Flash, go to Macromedia support and select 'Deny': http://www.macromedia.com/support/documentation/en/flashplayer/help/help09.html. After doing that, run a full system scan with anti-malware program.
* Manual Malta Police Association virus removal (special skills needed!):
Reboot you infected PC to 'Safe mode with command prompt' to disable your virus (this should be working with all versions of this threat)
Run Regedit
Search for WinLogon Entries and write down all the files that are not explorer.exe or blank. Replace them with explorer.exe.
Search the registry for these files you have written down and delete the registry keys referencing the files.
Reboot and run a full system scan with updated Reimage to remove remaining files.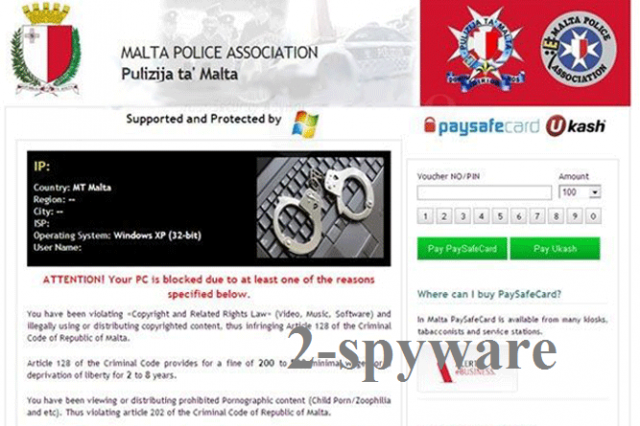 About the author