Remove MalwareLion Anti-Malware
removal by Jake Doevan
-
- Also known as
MalwareLion Anti-Malware virus, MalwareLion virus
| Type:
Malware
What is MalwareLion Anti-Malware?
MalwareLion Anti-Malware (also known as Spyware Clear) has recently been labeled as a rogue anti-spyware and it means that you have to be very careful with it in order to save your money. Beware that such and similar rogues implement suspicious activities on infected computers in order to lure money from innocent computer users. Many users fall into downloading this rogue from its official site when they get intrigued by the promises such as: prevent security breaches and intrusions, get daily updates against spyware threats, bank shop and download securely, perform on demand and scheduled scans, enjoy safe and uninterrupted gaming and so on. Unfortunately, such service is questionable and we highly DO NOT recommend installing and using this program. It is very easy to believe that it really works because once inside, it loads its scanners and displays a widget that shows how it runs a full system scan. Please, do not fall into believing the scan results that MalwareLion Anti-Malware virus delivers. It may expose you a long list of viruses that are supposedly hiding on your system. However, typically these results are fake and include either random files from your computer or invented threats that do not exist at all. As you probably suspect, if you would try eliminating those threats by clicking on 'Fix now' or 'Remove' buttons, you will be redirected to a purchase website and offered to buy a MalwareLion Anti-Malware license for a considerable amount of money. Do not buy it under any circumstances because you may not only lose your money for buying a useless program, but may also reveal your sensitive data, such as credit card details, log-ins, name, etc. and may experience further thefts from your bank account. That's why we highly recommend removing this misleading application from your computer without any delay.
How can MalwareLion Anti-Malware hijack my computer?
As we have already mentioned, MalwareLion Anti-Malware scareware may be installed manually on its official site and that's what many users do. Unfortunately, very commonly it spreads using unfair methods and appears on users computers as if out of nowhere. If that's the case, we recommend scanning your computer with a reputable anti-spyware and removing this rogue because otherwise you may lose your money and experience theft of your personal information. In fact, MalwareLion Anti-Malware virus may be distributed via fake pop-up alerts, spam email and via unsafe websites. If you notice various pop-up alerts while surfing online suggesting to scan your computer from various infections for free, do not believe this because in reality there is no such service as online PC's scan and repair. Besides, NEVER open suspicious looking email. Always make sure that you are familiar with the sender, that the theme is indicated and that there is no grammar and typo mistakes. Instead, you may install various malicious programs on your computer and experience serious issues. It doesn't matter if you have installed MalwareLion Anti-Malware manually or if it got inside unnoticed, you should remove it from your computer anyway in order to save your money and prevent loss of personal details.
How can I remove MalwareLion Anti-Malware virus from my computer?
Even though it is possible to remove MalwareLion Anti-Malware manually, we do not recommend doing so because it may have registry entries and restore after manual removal. Therefore, we highly recommend using a reputable anti-spyware that will remove it successfully. You can try Reimage or SpyHunterCombo Cleaner for that.
Alternative Software
Different security software includes different virus database. If you didn't succeed in finding malware with Reimage, try running alternative scan with SpyHunter.
Alternative Software
Different security software includes different virus database. If you didn't succeed in finding malware with Reimage, try running alternative scan with Combo Cleaner.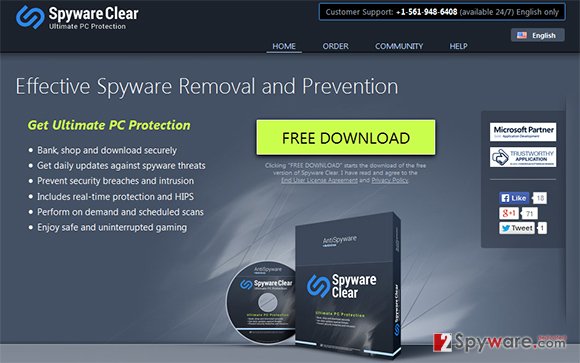 About the author