MalwaresEradicator. How to remove? (Uninstall guide)
MalwaresEradicator is a misleading security application that reports non-existing system security threats and displays fake security alerts to make you think your computer is seriously infected. The rogue program is related with Rapid Antivirus malware. Once installed, this bogus software will display a variety of infections and ask you to buy a full version of the program to remove computer threats which do not even exist. Do not purchase it! Instead, uninstall MalwaresEradicator from your computer as soon as possible.
MalwaresEradicator is promoted through the use of Trojans, browser hijackers and other malicious software. Usually, it enters the system secretly without your consent. Malwares Eradicator can be downloaded and installed manually from its home pagemalwareseradicator.com too. The website is very unprofessional. Frequently Asked Question section is full of Rapid Antivirus malware screen shots. This only proves that MalwaresEradicator and Rapid Antivirus was crated by the same group of malware creators.
While running, MalwaresEradicator will be automatically configured to scan your computer when Windows starts. To make things even worse, this infection will constantly display fake or exaggerated security warnings and notification form Windows task bar. It will state that your computer is under attack or that your anti-virus software is disabled. Malwares Eradicator will then suggest you to purchase the program to ensure full system protection. However, it's nothing more but a scam. Please use the removal guide below to remove MalwaresEradicator from your PC manually for free. Also scan your computer with reliable anti-malware application to make sure there are no other malware installed on your computer.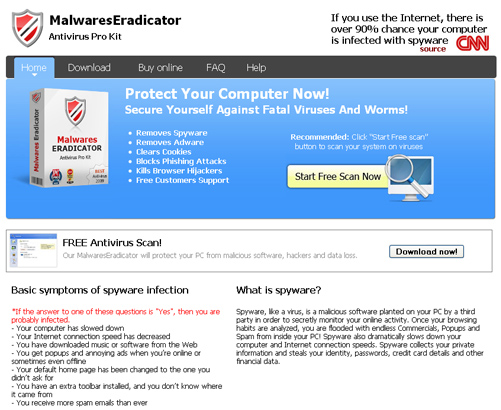 MalwaresEradicator manual removal:
Kill processes:
MalwaresEradicator.exe
Uninstall.exe
Delete files:
MalwaresEradicator.exe
Uninstall.exe
Delete directories:
%Program Files%MalwaresEradicator
%Documents and Settings%All UsersStart MenuProgramsMalwaresEradicator
%Documents and Settings%All UsersApplication DataMalwaresEradicator
About the author