Master Penalty Document. How to remove? (Uninstall guide)
Master Penalty Document virus (also called as Meister Penalty Document virus in German) is a scam, which seeks to swindle the money from PC users. This ransomware virus starts its activity with system's lock down and then displays a message, which tries to convince its victim that he/she has a deal with SOPA, PIPA, DMCA and similar organizations. Yes, these organizations are legitimate and truly work against pirated software and similar. However, they have never been blocking computers, showing alerts about law violations and then asking to pay a fine of 100 Euro. In fact, this virus is really similar to Stop Piracy virus but attacks people who live in Germany. Please, ignore Meister Penalty Document because it was clearly released by cyber criminals to swindle the money. Besides, note that paying the fine won't help you to unblock your computer! You will only lose your money and will support the scammers in this way.
HOW CAN I GET INFECTED WITH Master Penalty Document virus?
Master Penalty Document is spread by Trojans that come from the hacked websites, together with infected downloads, freeware, shareware and using similar ways. Once it gets inside, this scam blocks the system and starts pretending as governmental authority. It displays legitimately-looking alert and disables all legitimate applications on victim's computer. So, when infected with Master Penalty Document virus, you can't get on the Internet, use your programs and files. You see only a huge alert, which includes STOP, BLOCKED and claims:
Master Penalty Document
SOPA (Software Online Piracy Act) and PIPA (PROTECT Intellectual Property Act) has detected that you used piracy content on your computer such as:
Operating system (OS) which has NOT been installed IN LEGAL WAY: Child Porno materials (CP) on your PC, Software you used right now (installed with OS) ARE NOT LEGITIMATE. Your system HAS BEEN LOCKED and your data has been encrypted. To unlock your PC, decrypt your data and avoid arrest you MUST pay a penalty of 100 EURO. You can choose one of payment methods below:
PaySafeCard, Ukash, CashU or MoneyPack. You should buy a voucher in many places near you: Walmart, OMV, 7 eleven, ESSO, Avia, epay, kiosks. Enter-code below to unlock your PC.
Please, ignore Master Penalty Document because it's a ransomware infection, which belongs to cyber criminals. If you can't launch your anti-malware and remove this threat from your computer, we highly recommend following the guide written below:
HOW CAN I REMOVE MASTER PENALTY DOCUMENT?
* Users infected with Master Penalty Document virus are allowed to access other accounts on their Windows systems. If one of such accounts has administrator rights, you should be capable to launch anti-malware program.
* Try to deny the Flash to make your ransomware stop function as intended. In order to disable the Flash, go to Macromedia support and select 'Deny': http://www.macromedia.com/support/documentation/en/flashplayer/help/help09.html. After doing that, run a full system scan with anti-malware program.
* Manual Master Penalty Document removal:
Reboot you infected PC to 'Safe mode with command prompt' to disable Ukash virus (this should be working with all versions of this threat)
Run Regedit
Search for WinLogon Entries and write down all the files that are not explorer.exe or blank. Replace them with explorer.exe.
Search the registry for these files you have written down and delete the registry keys referencing the files.
Reboot and run a full system scan with updated [Reimage to remove remaining virus files.
* Flash Drive method:
Take another PC and download Malwarebytes, Reimage or other reputable anti-malware program with it.
Update the program and put it into your USB drive or simply burn a CD disk.
While the CD burns or USB drive get's the information, reboot your infected machine to Safe Mode with Command Prompt (by pressing F8 on boot) and then stick the prepared USB drive or put the CD disk in it.
Reboot the infected computer once more and run a full system scan with the program you downloaded.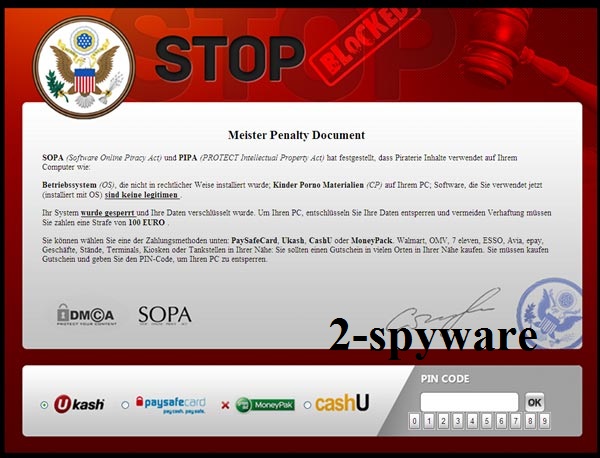 Master Penalty Document manual removal:
Kill processes:
[random].exe
Delete files:
[random].exe
About the author