Master Utilities. How to remove? (Uninstall guide)
Master Utilities is fraud software that may display misleading security alerts and Winows errors to trick users into purchasing bogus computer repair program. It's from the same family as PC Repair and System Repair scareware. Such rogue programs are usually promoted throught the use of fake scanners and infected websites that redirect users to fake scanners or exploit software vulnerabilites. As a result, Master Utilities is then downloaded onto the victim's computer and begins to display fake error warnings related to Windows registry, RAM and overall system file structure. The only between rogue antivirus programs and computer repair fraudware is that the following ones usually hide certain files and folders or move them to Temp folder, etc. Everything else is the same, payment scheme, fake system scan and misleading alerts to scare victims. Master Utilities or a Trojan downlaoder drops a rootkit onto the infected computer as well. Usually, rogue repair applications come bundled with TDSS rootit. First of all, you need to run anti-rootkit tool to disable rootkit infection and then scan your computer with anti-malware software. To make the removal procedure a lot easier, you can register the rogue program using the following registration key 1203978628012489708290478989147 and scaning your computer with STOPzilla. Or you can remove the infection manually, however, that's not an easy thing to do, keeping in mind that it comes bundled with rootkits. If your PC is infected, use removal instructions below to remove Master Utilities and rookits from the system. We stronlgy recommend you to use STOPzilla to remove rogue applications and additional malware. Here are some of the fake alerts an notifications you may encounter while your computer is infected with MasterUtilities malware:
Master Utilities Diagnostics
Windows detected a hard disk error.
A problem with the hard drive sectors has been detected. It is recommended to download the following sertified software to fix the detected hard drive problems. Do you want to download recommended software?
Hard Drive Failure
The system has detected a problem with one or more installed IDE / SATA hard disks. It is recommended that you restart the system.
The latest parasite names used by FakeHDD:
[newest id="fakehdd"]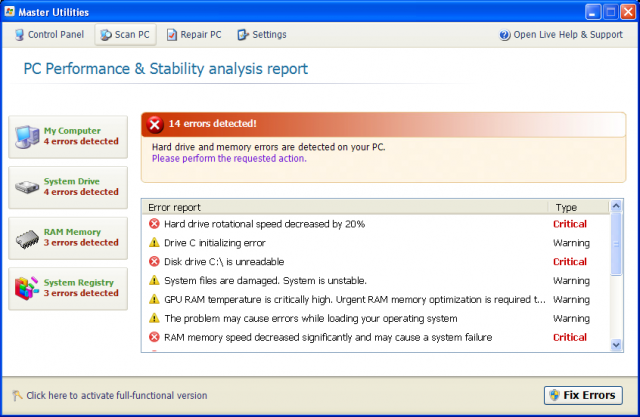 Master Utilities manual removal:
Kill processes:
[random].exe
Delete registry values:
HKEY_CURRENT_USERSoftwareMicrosoftWindowsCurrentVersionRun "[random].exe"
HKEY_CURRENT_USERSoftwareMicrosoftWindowsCurrentVersionRun "[random]"
HKEY_CURRENT_USERSoftwareMicrosoftWindowsCurrentVersionInternet Settings "CertificateRevocation" = '0'
HKEY_CURRENT_USERSoftwareMicrosoftWindowsCurrentVersionInternet Settings "WarnonBadCertRecving" = '0'
HKEY_CURRENT_USERSoftwareMicrosoftWindowsCurrentVersionPoliciesActiveDesktop "NoChangingWallPaper" = '1'
HKEY_CURRENT_USERSoftwareMicrosoftWindowsCurrentVersionPoliciesAssociations "LowRiskFileTypes" = '/{hq:/s`s:/ogn:/uyu:/dyd:/c`u:/bnl:/ble:/sdf:/lrh:/iul:/iulm:/fhg:/clq:/kqf:/`wh:/lqf:/lqdf:/lnw:/lq2:/l2t:/v`w:/rbs:'
HKEY_CURRENT_USERSoftwareMicrosoftWindowsCurrentVersionPoliciesAttachments "SaveZoneInformation" = '1'
HKEY_CURRENT_USERSoftwareMicrosoftWindowsCurrentVersionPoliciesSystem "DisableTaskMgr" = '1'
HKEY_LOCAL_MACHINESOFTWAREMicrosoftWindowsCurrentVersionpoliciessystem "DisableTaskMgr" = '1'
HKEY_CURRENT_USERSoftwareMicrosoftInternet ExplorerDownload "CheckExeSignatures" = 'no'
HKEY_CURRENT_USERSoftwareMicrosoftInternet ExplorerMain "Use FormSuggest" = 'yes'
HKEY_CURRENT_USERSoftwareMicrosoftWindowsCurrentVersionExplorerAdvanced "Hidden" = '0'
HKEY_CURRENT_USERSoftwareMicrosoftWindowsCurrentVersionExplorerAdvanced "ShowSuperHidden" = 0'
Unregister DLLs:
[random].dll
Delete files:
[random].dll
[random].exe
Master Utilities.lnk
Uninstall Master Utilities.lnk
Delete directories:
%AllUsersProfile%Application Data[random]
%AllUsersProfile%Application Data~[random]
%AllUsersProfile%Application Data~[random]r
%UserProfile%Start MenuProgramsMaster Utilities
About the author