McAVG 2011. How to remove? (Uninstall guide)
McAVG 2011 is a rogue anti-spyware program that utilizes fake online scanners to promote itself. This rogue can be encountered through sites that pretend to be online anti-malware scanners and it could also be installed on your computer through the use of Trojans that pretend to be a Flash update that is needed to view a video online. McAVG 2011 starts automatically when Windows starts. It reports false system security threats and prompts to pay for a full version of the program to remove the infections.
While McAVG 2011 is running it will also display security warnings and messages on your desktop. These warnings will state that Trojans and other malware has been found on your computer. It will also display other security alerts that will suggest you purchase McAVG 2011 to protect your computer against internet threats. Like the fake scan results, these alerts and messages are just another tactic to make you think your computer is not protected or infected with viruses and other malicious software. McAVG 2011 related domains: hydra-networks.com, spycheck.cn, spycheck.co.uk, spycheck.dk, spycheck.eu, spycheck.fr, spycheck.it, spycheck.jp, spycheck.nl, spycheck.pl, spycheck.ru.
It goes without saying that McAVG 2011 is not a program that you want on your computer. Do not purchase it and remove this infection as soon as possible. If you have already purchased the program then contact your credit card company and dispute the charges. To remove McAVG 2011, please use the removal instructions below. We strongly recommend you to use spyware removal tool given below.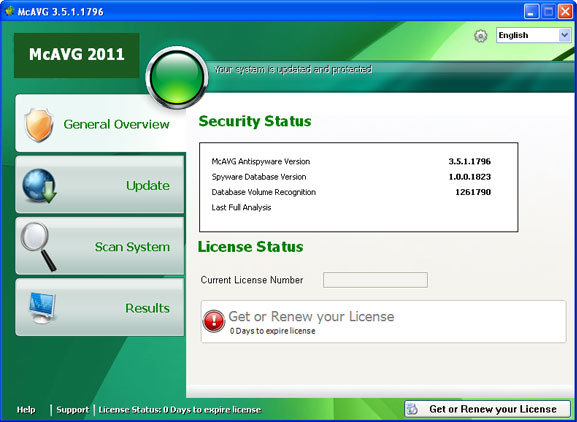 McAVG 2011 manual removal:
Kill processes:
mcavg.exe
Delete files:
mcavg.exe
About the author