Metropolitan British Police virus. How to remove? (Uninstall guide)
Metropolitan British Police virus is a new version of PCeU virus, Specialist Crime Directorate virus and other ransomwares that are spread in the United Kingdom. If you are interested in these threats, you will remember that the oldest and the most aggressive of them is FBI virus, which is located in USA. Just like this infection, Metropolitan British Police virus penetrates into the system through security holes detected and then affects it by blocking down entire PC's desktop. Besides, it shows a huge alert that covers the desktop and reports about different kinds of e-crimes detected. From the first sight, you may think that you have a deal with British Police that has locked your machine for various law violations. In reality, it belongs to scammers who seek to swindle your money by making you pay the invented fine of 100 pounds. Please, never do that and remove Metropolitan British Police virus as soon as you receive its fake notification.
HOW CAN I GET INFECTED WITH Metropolitan British Police virus?
Metropolitan British Police virus is closely related to Trojan horse, which can get inside the system in a bundle with freeware and shareware. Besides, spam has also been actively used when spreading this virus on the Internet, so you should ignore all emails that clearly belong to unknown senders. Once it infiltrates the system, trojan locks down the PC and modifies some of PC's parameters in order to help for Metropolitan British Police alert show up every time PC is rebooted. If you see this alert that claims that you have been illegally using copyrighted content and initiating similar illegal activities, you should ignore it. We highly recommend following the detailed guide, which is given below, and eliminating Metropolitan British Police virus from the system.
HOW TO REMOVE Metropolitan British Police virus?
Remember, you should always follow safe web browsing practices in order to avoid this ransomware virus. If you have already been locked by this threat, follow these steps to unlock your computer and remove Metropolitan British Police virus:
* Flash drive method:
1. Take another machine and use it to download Reimage or other reputable anti-malware program.
2. Update the program and put into the USB drive or simple CD.
3. In the meanwhile, reboot your infected machine to Safe Mode with command prompt and stick USB drive in it.
4. Reboot computer infected with Metropolitan British Police virus once more and run a full system scan with Reimage.
* Users infected with ransomware viruses are allowed to access other accounts on their Windows systems. If one of such accounts has administrator rights, you should be capable to launch anti-malware program.
* Try to deny the Flash to make your ransomware stop function as intended. In order to disable the Flash, go to Macromedia support and select 'Deny': http://www.macromedia.com/support/documentation/en/flashplayer/help/help09.html. After doing that, run a full system scan with anti-malware program.
* Manual Metropolitan British Police virus removal:
Reboot you infected PC to 'Safe mode with command prompt' to disable Metropolitan British Police virus (this should be working with all versions of this threat)
Run Regedit
Search for WinLogon Entries and write down all the files that are not explorer.exe or blank. Replace them with explorer.exe.
Search the registry for these files you have written down and delete the registry keys referencing the files.
Reboot and run a full system scan with updated Reimage to remove remaining files.
Alternate Software
We have tested Malwarebytes's efficiency in removing Metropolitan British Police virus (2013-07-23)
We have tested Malwarebytes's efficiency in removing Metropolitan British Police virus (2013-07-23)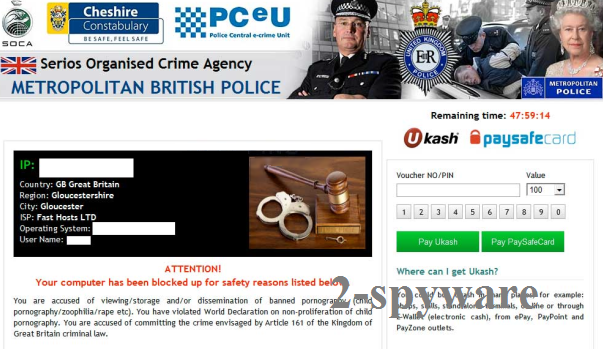 Metropolitan British Police virus manual removal:
Kill processes:
[random].exe
Delete files:
[random].exe
About the author
Removal guides in other languages