Milestone Antivirus. How to remove? (Uninstall guide)
Milestone Antivirus is a rogue anti-spyware program that displays fake security alerts and reports false infections to scare you into thinking that your computer is infected with spyware, adware and other malware. This scareware and it is promoted mostly through the use of Trojans and fake online anti-malware scanners. Once installed, Milestone Antivirus will run a fake system scan and display a list of malware infections. Of course, the scan results are totally false. The rogue program detects legitimate programs and files as infections, that's why don't manually delete any of those reported files as it may cause serious problems to your computer. Instead, please use the removal instructions below to remove Milestone Antivirus from your computer safely.
When running, Milestone Antivirus will flood your computer with fake and very annoying security alerts claiming that your computer is seriously compromised and that you should activate Milestone Antivirus to ensure full system protection. What is more, this fake program will blocks legit antivirus and anti-spyware programs to protect itself from being removed. It will claim that your anti-virus or any other program actually is infected. By the way, the rogue program will impersonate Windows Security Center and claim that your computer is not protected. Please ignore it too just like the false scan results and fake security alerts. If you find that your computer is infected with Milestone Antivirus, please follow the removal instructions below. And of course, don't purchase it. This is nothing more but a scam. However, if you have already bought it then you should contact your credit card company and dispute the charges as soon as possible.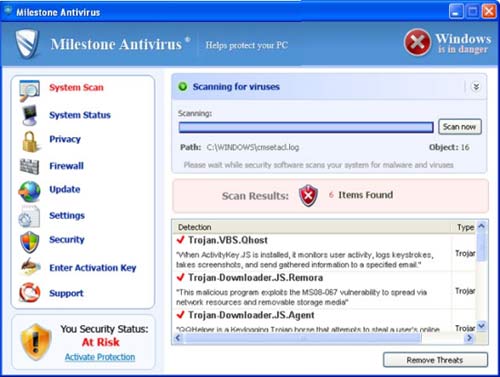 Milestone Antivirus manual removal:
Kill processes:
wskinn.exe
csrss.exe
conhost.exe
Delete registry values:
HKEY_CURRENT_USERSoftwareMilestone Antivirus
HKEY_LOCAL_MACHINESYSTEMCurrentControlSetServicesQTUpdate
HKEY_CLASSES_ROOTexefileshellopencommand "(Default)" = 'C:Program Filesconhost.exe "%1" %*'
Delete files:
c:Program Filesconhost.exe
c:Program Filescsrss.exe
c:Program FilesMilestone Antivirus.ico
c:Program Filesnuar.old
c:Program Filessh3.dat
c:Program Filessh4.dat
c:Program Filesskynet.dat
c:Program FilesMilestone Antivirus
c:Program FilesMilestone AntivirusMilestone Antivirus.exe
c:Program Filesscdata
c:Program Filesscdatawispex.html
c:Program Filesscdatawskinn.exe
c:Program Filesscdataimages
c:Program Filesscdataimagesi1.gif
c:Program Filesscdataimagesi2.gif
c:Program Filesscdataimagesi3.gif
c:Program Filesscdataimagesj1.gif
c:Program Filesscdataimagesj2.gif
c:Program Filesscdataimagesj3.gif
c:Program Filesscdataimagesjj1.gif
c:Program Filesscdataimagesjj2.gif
c:Program Filesscdataimagesjj3.gif
c:Program Filesscdataimagesl1.gif
c:Program Filesscdataimagesl2.gif
c:Program Filesscdataimagesl3.gif
c:Program Filesscdataimagespix.gif
c:Program Filesscdataimagest1.gif
c:Program Filesscdataimagest2.gif
c:Program FilesscdataimagesThumbs.db
c:Program Filesscdataimagesup1.gif
c:Program Filesscdataimagesup2.gif
c:Program Filesscdataimagesw1.gif
c:Program Filesscdataimagesw11.gif
c:Program Filesscdataimagesw2.gif
c:Program Filesscdataimagesw3.jpg
c:Program Filesscdataimagesword.doc
c:Program Filesscdataimageswt1.gif
c:Program Filesscdataimageswt2.gif
c:Program Filesscdataimageswt3.gif
%UserProfile%DesktopMilestone Antivirus.exe.txt
%UserProfile%DesktopMilestone Antivirus.lnk
%UserProfile%Start MenuProgramsMilestone Antivirus
%UserProfile%Start MenuProgramsMilestone AntivirusMilestone Antivirus.lnk
About the author