Ministerio del Interior Virus. How to remove? (Uninstall guide)
removal by Gabriel E. Hall
-
- Also known as
Police virus, Ukash virus, Su ordenador ha sido bloqueado virus
| Type:
Ransomware
Ministerio del Interior Virus (can also be called as Gobierno de Espana, Ministerio del Interior scam) is a cyber infection, which is categorized as ransomware. Of course, this Spanish threat is designed to steal the money by making people pay for nonexistent law violations. Just like its name suggests, 'Su ordenador ha sido bloqueado' virus is set to attack Spanish users and swindle their money. For that, it blocks the whole system and displays frightening warning looking like it was sent by governmental authority. This fake pop-up message shows victim's IP address, uses official logos and lists same laws that have been 'violated' by a user. However, you must ignore these illegitimate actions that are reported on a fake Ministerio del Interior alert and remove Ministerio del Interior virus from your computer just like you must have done with El Equipo ha Sido Bloqueado virus.
HOW CAN I GET INFECTED WITH Ministerio del Interior Virus?
Just like any other virus, Gobierno de Espana Ministerio del Interior virus is distributed with a help of Trojan horse, which blocks the target computer as soon as it gets inside the PC. Mostly, users download this scam together with freeware, shareware and similar downloads. The result of this infection is like we have already said: ransomware blocks computer down and shows its huge notification about law violations and similar problems. Of course, it looks really official and has tricked many Spanish users into paying a certain amount of money as a ransom via Ukash or Paysafecard prepayment systems. Here's what it exactly claims:
Gobierno de Espana
Ministerio del Interior
Su ordenador ha sido bloqueado
Usted es un contraventor, cuyos acciones son ilegales y implican responsabilidad criminal.
La actividad de su ordenador fue detenida a causa de ciberactividad no autorizada.
Articulo – 174. Derecho de autor
Privacion de libertad de 2 hasta 5 anos (Utilizacion o distribucion de las obras de autorX Pena pecuniaria de 18,000 euros hasta 23 000 euros.
(…)
Privacion de libertad hasta 2 anos (Distribucion de spam con contenido pornografico por medio de cartas electronicas y redes socialesX Pena pecuniaria de 16 000 euros hasta 38,000 euros.
Please, never fall for this scam! After transferring your money you will simply find yourself ripped off. If you see Ministerio del Interior Virus on your computer, we recommend ignoring its warning and never paying the fine. Additionally, remove Ministerio del Interior Virus from your computer.
HOW CAN I REMOVE Ministerio del Interior Virus?
The main problem about Ministerio del Interior Virus removal is that it blocks computer from anything. In order to unblock your computer and remove this dangerous ransomware, remove the lock from your computer by following these steps:
*Flash drive method:
1. Take another machine and use it to download Reimage or other reputable anti-malware program.
2. Update the program and put into the USB drive or simple CD.
3. In the meanwhile, reboot your infected machine to Safe Mode with command prompt and stick USB drive in it.
4. Reboot computer infected with FBI ransomware once more and run a full system scan.
* Users infected with any of Hungarian Police virus are allowed to access other accounts on their Windows systems. If one of such accounts has administrator rights, you should be capable to launch anti-malware program.
* Try to deny the Flash to make your ransomware stop function as intended. In order to disable the Flash, go to Macromedia support and select 'Deny': http://www.macromedia.com/support/documentation/en/flashplayer/help/help09.html. After doing that, run a full system scan with anti-malware program.
* Manual Hungarian Police virus removal (special skills needed!):
Reboot you infected PC to 'Safe mode with command prompt' to disable Police virus (this should be working with all versions of this threat)
Run Regedit
Search for WinLogon Entries and write down all the files that are not explorer.exe or blank. Replace them with explorer.exe.
Search the registry for these files you have written down and delete the registry keys referencing the files.
Reboot and run a full system scan with updated Reimage to remove remaining files.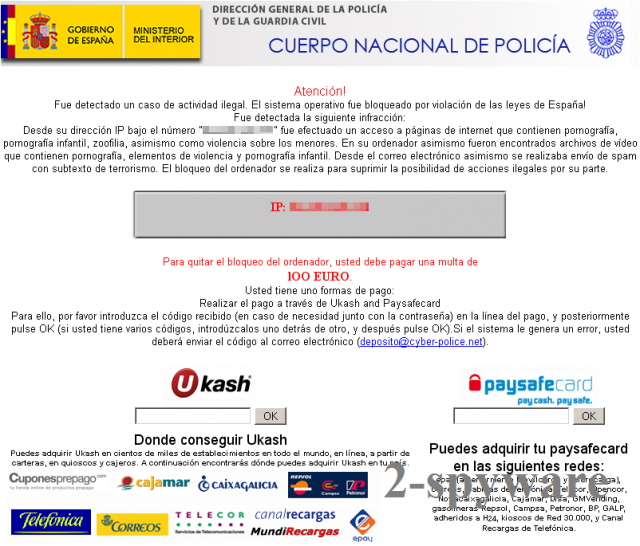 Ministerio del Interior Virus manual removal:
Kill processes:
[random].exe
Delete files:
[random].exe
About the author
Removal guides in other languages