Mynetcop.net virus. How to remove? (Uninstall guide)
Mynetcop.net is a malicious website, which can block all web browsers (Internet Explorer, Mozilla Firefox, Google Chrome, etc.) and disable all websites. As soon as it does that, this domain starts showing a huge notification that is based on a malicious javascript, so you won't be able to close it. It typically presents itself as a message from a local law enforcement agency (FBI, Police Central e-Crime Unit, Department of Justice and similar) and claims that you were caught for various law violations. If you were blocked by Mynetcop.net virus and informed that you need to pay a 300$ fine for viewing copyrighted content or spreading malware, you must ignore such message because it's fake.
How can Mynetcop.net virus appear on my computer?
This malicious domain can be visited unconsciously. Mynetcop.net redirects happen when computer gets infected with the browser hijacker, which redirects victims to this site against their will. Basically, it's just a webpage, which contains malicious javascript. Once user enters this page, it blocks the browser and fails to allow him/her to switch it to a different browser or web site. When trying to do that, it shows such pop-up:
Are you sure you want to leave this page?
Message from webpage:
YOUR BROWSER HAS BEEN BLOCKED UP FOR SAFETY REASONS.
ALL PC DATA WILL BE DETAINED.
ALL YOUR FILES ARE ENCRYPTED.

YOUR BROWSER HAS BEEN BLOCKED UP. Leave this page or Stay on this page.
Instead of that, victim starts seeing a bogus notification, which asks to pay a ransom for invented law violations. This message is closely related to well-known ransomware, such as FBI virus, Department of Justice virus, PCeU virus and similar cyber threats. Please, stay away from Mynetcop.net and never do what it asks because you will lose your money!
How to remove Mynetcop.net virus?
If your browser was blocked by Mynetcop.net virus, you may find out that you can't close it and launch your anti-malware. In order to get this ability, you should follow these instructions:
Open Windows Task Manager by clicking Ctrl+Alt+Del or Ctrl+Shift+Esc.
Now open the Processes tab and choose 'Show processes from all users'.
Find your browser's process and left-click on it. If you were using Internet Explorer, then cancel iexplore.exe, Mozilla Firefox – firefox.exe, Google Chrome- chrome.exe, Safari – safari.exe, Opera – opera.exe.
Now click 'End Process' button and don't forget to confirm that you really want to do it.
Once you close your affected browser, you should download, update and run a reputable anti-malware program. For that we recommend using Reimage, Plumbytes Anti-MalwareWebroot SecureAnywhere AntiVirus or Malwarebytes Anti Malware. This will help you to remove Mynetcop.net virus from the system.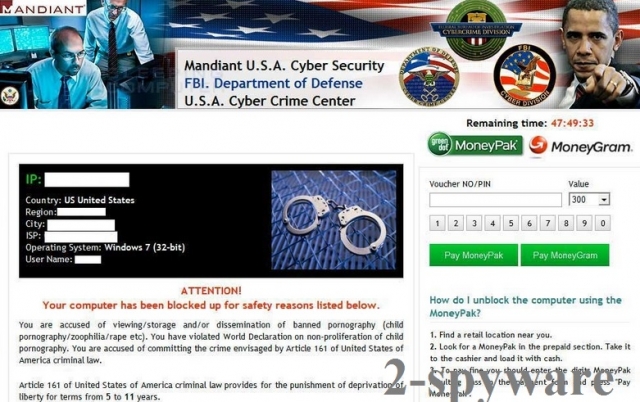 Mynetcop.net virus manual removal:
Kill processes:
[random].exe
Delete files:
[random].exe
About the author