New Zealand Police virus. How to remove? (Uninstall guide)
New Zealand Police virus is a misleading ransomware threat, which usually blocks the entire computer's system with its fake notification. This virus is spread only in New Zealand, but you should also be aware that there are many other versions of these scams that attack other countries in the world. We have recently reported about POLICIA Departamento Cibercrime virus, which attacks Spain, Police & Gendarmerie Nationale virus, which attacks France, Policia Boliviana virus, which is spread in Bolivia, and many other ransomwares. Please, keep in mind the main thing: New Zealand Police virus seeks only to scare you into believing that you have violated many laws. Typically, it lists them on its fake alert and then claims that you have to pay the fine if you want to avoid more serious consequences. If New Zealand Police virus gets on the system, the main sign of its infiltration is computer's lock down. Besides, it may damage your personal files or may even let more viruses on the system. So, remove New Zealand Police virus as soon as you start seeing its alert because it's a dangerous virus.
HOW CAN I GET INFECTED WITH New Zealand Police virus?
Usually, New Zealand Police virus pops up on a computer out of nowhere. In reality, it gets inside via Trojan horse, which uses security vulnerabilities when trying to get inside undetected. As soon as it gets inside, it downloads all the files that are needed for New Zealand Police virus and blocks the entire system. It may seem that you can unblock your computer only after paying the fine. However, this has never been helpful. Please, ignore New Zealand Police virus notification because it is the one that seeks to mislead you into thinking that you have some serious business with your local police department. In reality, this program is only a ransomware, which seeks to get you out of your money. You must remove New Zealand Police virus without any delay.
HOW TO REMOVE New Zealand Police virus?
Of course, when trying to remove infected files from the system, you have to run a full system scan with anti-spyware program. However, differently from rogues, ransomwares block the entire system and leave their victims without Internet connection. In order to remove this lock, you should follow these steps at firts:
* Flash drive method:
1. Take another machine and use it to download Reimage or other reputable anti-malware program.
2. Update the program and put into the USB drive or simple CD.
3. In the meanwhile, reboot your infected machine to Safe Mode with command prompt and stick USB drive in it.
4. Reboot computer infected with New Zealand Police virus once more and run a full system scan.
* Users infected with Ukash viruses are allowed to access other accounts on their Windows systems. If one of such accounts has administrator rights, you should be capable to launch anti-malware program.
* Try to deny the Flash to make your ransomware stop function as intended. In order to disable the Flash, go to Macromedia support and select 'Deny': http://www.macromedia.com/support/documentation/en/flashplayer/help/help09.html. After doing that, run a full system scan with anti-malware program.
* Manual Ukash virus removal (special skills needed!):
Reboot you infected PC to 'Safe mode with command prompt' to disable Ukash virus (this should be working with all versions of this threat)
Run Regedit
Search for WinLogon Entries and write down all the files that are not explorer.exe or blank. Replace them with explorer.exe.
Search the registry for these files you have written down and delete the registry keys referencing the files.
Reboot and run a full system scan with updated Reimage to remove remaining virus files.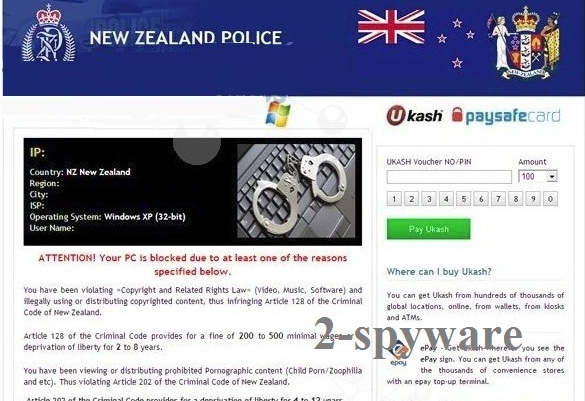 New Zealand Police virus manual removal:
Kill processes:
[random].exe
Delete files:
[random].exe
About the author