Newsoftspot.microsoft.com. How to remove? (Uninstall guide)
Newsoftspot.microsoft.com (also can be met as Newsoftspot.com) is a malicious domain, browser hijacker which is known to have been distributing Antivirus Soft, one of the latest rogue antispywares. Just like any other earlier variant of browser hijackers, Newsoftspot.microsoft.com is the malicious domain where people are offered to check their computers for viruses. Additionally, victims are redirected straight away to Newsoftspot.com/purchase and asked persistently to make a registration for Antivirus Soft. The "Microsoft" name on the website is expected to trick users into taking this scamware legitimate. However, just after registration it starts messing up the whole PC system, so save your money instead.
When people find themselves redirected to Newsoftspot.microsoft.com, fake alerts usually appear on their desktop. Just like Newsoftspot.microsoft.com, Newsoftspot.com is also created for aiming PC users to waste their money and purchase the scam called Antivirus Soft. Moreover, these redirections almost prove that the trial version of AntivirusSoft is already installed on the computer. It usually hides itself from being removed from the System and secretly makes useful changes there.
Make sure your security software is up to date and don't take Antivirus Soft or Newsoftspot.microsoft.com serious. The browser hijacker Newsoftspot.microsoft.com seeks only to push you into purchasing this badware and just like the same Antivirus Soft becomes more and more aggressive. Use a good anti-spyware tool for checking your PC for malware like this one and remove it immediately.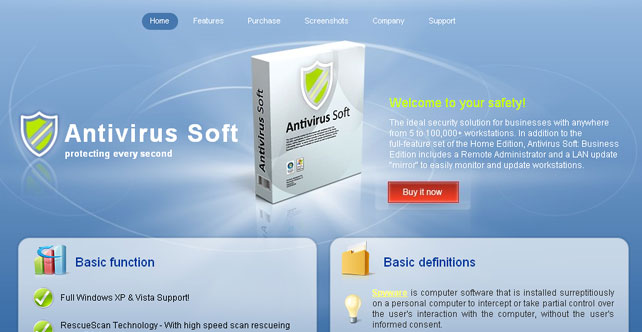 Newsoftspot.microsoft.com manual removal:
Kill processes:
[random string]sysguard.exe
Delete files:
%Documents and Settings%\[UserName]\Local Settings\Application Data\[random string]\[random string]sysguard.exe
About the author