Nowlucly.com ads. How to remove? (Uninstall guide)
removal by Jake Doevan
-
- Also known as
Nowlucly.com virus, Nowlucly.com scam
| Type:
Adware
What is Nowlucly.com?
Nowlucly.com ads that are appearing on your screen may only mean one of two things; you are visiting an unsafe website, which is related to this dubious domain, or you have an adware installed on your computer. Either way, you should be very careful. We have noticed that scammers and cyber criminals may hide behind Nowlucly.com. Many people are complaining that this questionable website offers fake surveys in order to swindle some money from you. Usually, Nowlucly.com ads may offer you to complete a survey and win some cool prize. Right after you complete the survey, you will be offered to claim your prize for $1 (or $2, or $3). However, to pay such small amount, you will have to use your credit card. Right after you give them your banking information, you may get charged for much more than $1 (usually the amount is $79, $99, or even $109). Please be careful and do not fall for this scam. Besides, this website offers you to play various fun games and win big prizes. However, as we have mentioned above, when this dubious website offers you to claim your prizes, you may get scammed.
How can Nowlucly.com hijack my computer?
If you constantly see Nowlucly.com ads, you should check your computer as soon as possible. There is a possibility that an adware may hide in your computer. Usually, Nowlucly.com virus and similar adwares may travel as additional attachments together with free programs. Internet is filled with similar programs that only seek to enter your computer, display intrusive advertisements and try to steal your private information or even your money. That is the main reason why you should protect your computer and all the valuable information that is stored within. Avoid downloading unfamiliar programs because you may add Nowlucly.com virus unintentionally. Besides, avoid visiting unfamiliar websites, downloading files from them or participate in questionable online surveys. As you can imagine, nothing is free; therefore, do not believe that by answering a couple of questions and entering your email you will win a brand new iPhone. What is more, we also recommend having a reliable security tool that should protect your computer from various cyber threats. Moreover, do not let Nowlucly.com redirect you to some unsafe website.
How to stop Nowlucly.com ads from appearing?
Check your Add/Remove Programs folder and try to find this pesky program there. Moreover, check your browsers and look for unfamiliar add-ons, toolbars and plug-ins. Follow these guidelines and eliminate Nowlucly.com virus from your computer.
Remove Nowlucly.com related potentially unwanted program from your computer:
1. Click Start → Control Panel → Uninstall a Program.
2. When in the Add/Remove Programs/Uninstall a Program, look for recently installed/unfamiliar applications, such as Coinis Downloader, SaverAddon, SupTab, WebSaver, Shopping-Addon, ValueApps, Lollipop, PriceMeter, Supra Savings, weDownload Manager, Software Updated Version, DP1815, Video Player, Convert Files for Free, 123HD-Plus, CostMin, BetterSurf, PureLead, Search Assist, Re-Markable, Lollipop, HD-Total-Plus, Safe Saver, Trusted Web, PassShow, LyricsBuddy-1, PureLeads, Media Player 1.1, RRSavings or similar unfamiliar entries.
3. Click 'Uninstall' and then OK to save the changes.
Remove Nowlucly.com extension from your browsers (Internet Explorer, Mozilla Firefox, and Google Chrome):
Internet Explorer:
1. Open Internet Explorer, go 'Tools' → 'Manage Add-ons' → 'Toolbars and Extensions'.
2. Here, look for unfamiliar entries and click 'uninstall'.
3. Once you remove it, change your start page.
Reset your Internet Explorer (Optional):
1. Open Internet Explorer, click the Gear icon or 'Tools' → 'Internet Options'.
2. Here, go to the 'Advanced' tab and click the 'Reset' button.
3. Go to the 'Reset Internet Explorer settings' → 'Delete personal settings' and click on 'Reset' option.
4. Finally, click 'Close' and OK to save the changes.
Mozilla Firefox:
1. Open Mozilla Firefox, go 'Tools' → 'Add-ons' → 'Extensions'.
2. Find suspicious-looking entries and click 'Uninstall'.
3. After that, change the start page.
Reset your Mozilla Firefox (Optional):
1. Open Mozilla Firefox, go to the 'Help' section → 'Troubleshooting Information'.
2. Here, choose a 'Reset Firefox' for a couple of times and 'Finish'.
Google Chrome:
1. Click the Chrome menu button on the Google Chrome browser, select Tools → Extensions.
2. Here, look for unfamiliar extensions and get rid of them by clicking on the Recycle Bin.
3. Don't forget to change start page.
Alternate Software
We have tested Malwarebytes's efficiency in removing Nowlucly.com ads (2014-08-07)
We have tested Malwarebytes's efficiency in removing Nowlucly.com ads (2014-08-07)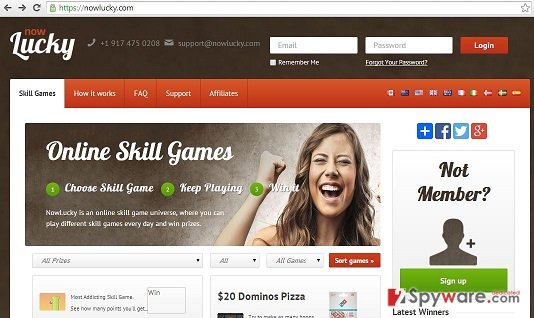 About the author