Office Central De Lutte Contre virus. How to remove? (Uninstall guide)
Office Central De Lutte Contre virus (also called as ANSSI virus) is a dangerous cyber infection, ransomware, that usually comes inside the system uninvited. As it can be guessed from its name and notification, it attacks French PC users and seeks to make them pay the invented fine. You should definitely ignore this requirement because it belongs to scammers, not to the Agence nationale de la sécurité des systèmes d'information or other governmental authority, that seek to swindle users' money. Besides, they also block computers and disconnect their victims from the Internet connection. Of course, there are many tricky details about this infection that may convince you that you have a deal with real French police: it shows your IP address, location, computer's type and many other things that seem to be private. However, such organizations have never been blocking computers and using other primitive methods to collect their fines and fees, so you can safely ignore Office Central De Lutte Contre notification. Of course, don't forget to remove Office Central De Lutte Contre virus from the system.
HOW CAN I GET INFECTED WITH Office Central De Lutte Contre virus?
Office Central De Lutte Contre virus is distributed by Trojan.LockScreen. This virus is responsible for the distribution of all Ukash viruses that actively infect PC users at the moment. You must remember Gendarmerie Nationale Virus, which also relies on the same scheme of distribution and money extortion. So, once it attacks the PC, this trojan blocks the system and downloads malicious files that belong to Office Central De Lutte Contre virus. It displays a notification across the whole computer's screen next and seeks to convince its victim that it's real. Classically, Ukash parasites report about the use of copyrighted content, distribution of malware and similar thibgs. Please, ignore this alert, because it is a dangerous ransomware infection, not a real governmental authority.
HOW TO REMOVE Office Central De Lutte Contre virus?
First of all, you need to unblock your computer. Some users need only to set their computer's date back, some users find this useless. If you are one of them, please, try these methods:
Flash drive method:
1. Take another machine and use it to download Reimage or other reputable anti-malware program.
2. Update the program and put into the USB drive or simple CD.
3. In the meanwhile, reboot your infected machine to Safe Mode with command prompt and stick USB drive in it.
4. Reboot computer infected with Office Central de Lutte Contre virus once more and run a full system scan.
* Users infected with these ransomware threats are allowed to access other accounts on their Windows systems. If one of such accounts has administrator rights, you should be capable to launch anti-malware program.
* Try to deny the Flash to make your ransomware stop function as intended. In order to disable the Flash, go to Macromedia support and select 'Deny': http://www.macromedia.com/support/documentation/en/flashplayer/help/help09.html. After doing that, run a full system scan with anti-malware program.
* Manual Office Central de Lutte Contre virus removal (special skills needed!):
Reboot you infected PC to 'Safe mode with command prompt' to disable thisI virus (this should be working with all versions of this threat)
Run Regedit
Search for WinLogon Entries and write down all the files that are not explorer.exe or blank. Replace them with explorer.exe.
Search the registry for these files you have written down and delete the registry keys referencing the files.
Reboot and run a full system scan with updated Reimage to remove remaining files.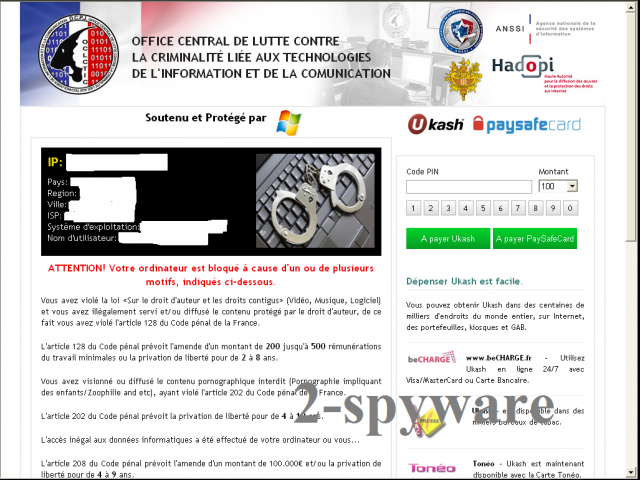 About the author