Online Weather virus. How to remove? (Uninstall guide)
removal by Jake Doevan
-
- Also known as
Online Weather ads, Online Weather redirect
| Type:
Adware
Online Weather is an application that should enhance your browser and help you to view weather forecasts. Although that sounds like a useful program, there are a couple of facts that you should know about it. Firstly, this program is completely free; therefore, do not be surprised if you see annoying Online Weather advertisements. Secondly, this program is labeled as an adware. Thirdly, it may violate your privacy and track your online habits behind your back. Finally, this program works as a mediator in order to transmit various advertisements; therefore, you should be very careful. There is no telling who may hide behind this program. Sometimes you may see misleading ads, notifications or messages that may try to trick you. In worst case scenario, if you click Online Weather ads, you may get redirected to some malicious website.
How can Online Weather hijack my computer?
Online Weather adware has its download page. So, it is not hard to download this ad-supported application. What is more, it looks like Online Weather virus may work as an adware distributor. We have noticed that right after installing this program, it may add a couple of additional programs to our system. Besides, it is possible to get Online Weather program even the other way around. In other words, this dubious application may travel as an extra attachment together with various freewares. In fact, that is why we always recommend having a reliable and updated anti-spyware program installed. You should also avoid installing unfamiliar freewares. If you are going to install a doubtful program, make sure whether this program is safe enough. Always find as much information as possible and try reading its end-user license agreement (EULA) part. Follow the whole installation process closely and eliminate all additional attachments that look suspicious.
How to remove Online Weather virus from my computer?
We recommend removing this questionable program as soon as possible. As we have mentioned before, Online Weather redirects may completely ruin your browsing experience. Don't worry, this simple step-by-step removal instruction will help you.
Remove Online Weather from your computer:
1. Click Start → Control Panel → Uninstall a Program.
2. When in the Add/Remove Programs/Uninstall a Program, look for recently installed/unfamiliar applications, such as Online Weather (Publisher: Somoto Ltd.) or similar unfamiliar entries.
3. Click 'Uninstall' and then OK to save the changes.
Remove Online Weather extension from your browsers (Internet Explorer, Mozilla Firefox, and Google Chrome):
Internet Explorer:
1. Open Internet Explorer, go 'Tools' → 'Manage Add-ons' → 'Toolbars and Extensions'.
2. Here, look for unfamiliar entries, such as Online Weather and click 'uninstall'.
3. Once you remove it, change your start page.
Reset your Internet Explorer (Optional):
1. Open Internet Explorer, click the Gear icon or 'Tools' → 'Internet Options'.
2. Here, go to the 'Advanced' tab and click the 'Reset' button.
3. Go to the 'Reset Internet Explorer settings' → 'Delete personal settings' and click on 'Reset' option.
4. Finally, click 'Close' and OK to save the changes.
Mozilla Firefox:
1. Open Mozilla Firefox, go 'Tools' → 'Add-ons' → 'Extensions'.
2. Find suspicious-looking entries, such as Online Weather and click 'Uninstall'.
3. After that, change the start page.
Reset your Mozilla Firefox (Optional):
1. Open Mozilla Firefox, go to the 'Help' section → 'Troubleshooting Information'.
2. Here, choose a 'Reset Firefox' for a couple of times and 'Finish'.
Google Chrome:
1. Click the Chrome menu button on the Google Chrome browser, select Tools → Extensions.
2. Here, look for unfamiliar extensions like Online Weather and get rid of them by clicking on the Recycle Bin.
3. Don't forget to change start page.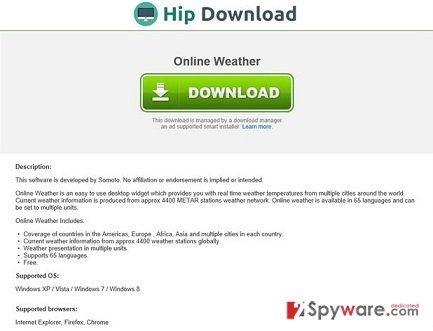 About the author