OpenCloud Antivirus. How to remove? (Uninstall guide)
OpenCloud Antivirus is a rogue anti-spyware program that displays fake security alerts and reports false infections to scare you into thinking that your computer is infected with spyware, adware and other malware. The rogue program is a clone of BlueFlare Antivirus scareware and it is promoted mostly through the use of Trojans and fake online anti-malware scanners. Once installed, OpenCloud Antivirus will run a fake system scan and display a list of malware infections. Of course, the scan results are totally false. The rogue program detects legitimate programs and files as infections, that's why don't manually delete any of those reported files as it may cause serious problems to your computer. Instead, please use the removal instructions below to remove OpenCloud Antivirus from your computer safely.
When running, Open Cloud Antivirus will flood your computer with fake and very annoying security alerts claiming that your computer is seriously compromised and that you should activate OpenCloud Antivirus to ensure full system protection. What is more, this fake program will blocks legit antivirus and anti-spyware programs to protect itself from being removed. It will claim that your anti-virus or any other program actually is infected. Some of the fake alerts read:
Security Warning
Malicious programs that may steal your private information and prevent your system from working properly are detected on your computer.
Clear here to clean your PC immediately.
If you can't use Task Manager, then you may download Process Explorer and use it instead of Task Manager. By the way, the rogue program will impersonate Windows Security Center and claim that your computer is not protected. Please ignore it too just like the false scan results and fake security alerts. If you find that your computer is infected with OpenCloud Antivirus, please follow the removal instructions below. And of course, don't purchase it. This is nothing more but a scam. However, if you have already bought it then you should contact your credit card company and dispute the charges as soon as possible.
Alternate Software
We have tested Plumbytes Anti-Malware's efficiency in removing OpenCloud Antivirus (2011-10-04)
We have tested Malwarebytes's efficiency in removing OpenCloud Antivirus (2011-10-04)
We have tested Hitman Pro's efficiency in removing OpenCloud Antivirus (2011-10-04)
We have tested Malwarebytes's efficiency in removing OpenCloud Antivirus (2011-10-04)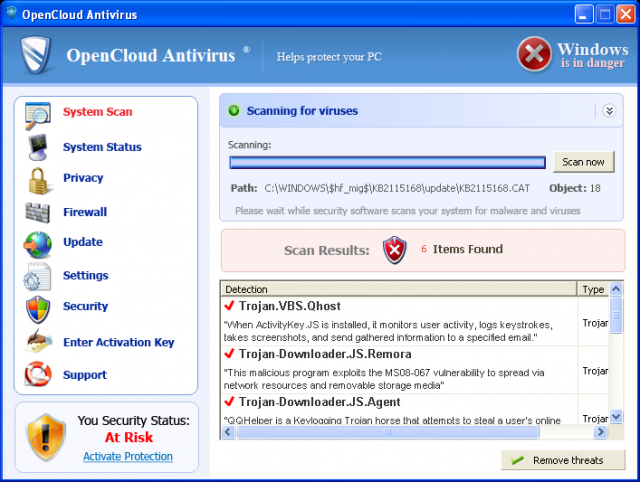 OpenCloud Antivirus manual removal:
Kill processes:
OpenCloud Antivirus.exe
Delete registry values:
HKEY_CLASSES_ROOTCLSID{19090308-636D-4e9b-A1CE-A647B6F794BF}
HKEY_LOCAL_MACHINESOFTWAREMicrosoftWindowsCurrentVersionExplorerBrowser Helper Objects{19090308-636D-4e9b-A1CE-A647B6F794BF}
Unregister DLLs:
sysl32.dll
Delete files:
%AppData%OpenCloud AntivirusOpenCloud Antivirus.exe
%AppData%OpenCloud AntivirusOpenCloud Antivirus.ico
%AppData%OpenCloud Antivirussysl32.dll
%AppData%OpenCloud Antiviruswf.conf
%UserProfile%DesktopOpenCloud Antivirus.lnk
%StartMenu%ProgramsOpenCloud AntivirusOpenCloud Antivirus.lnk
Delete directories:
%AppData%OpenCloud Antivirus
%StartMenu%ProgramsOpenCloud Antivirus
About the author