OpenCloud Security. How to remove? (Uninstall guide)
OpenCloud Security is a rogue anti-spyware program from the same family as OpenCloud Antivirus. It runs a fake system scan and states that your computer is infected with spyware, viruses and trojans. Rogue application displays fake security alerts and pop-ups to further scare you into believing that your PC is infected. The scan results and notifications are false, don't trust this fake antivirus software and use legitimate anti-spyware application to remove it from your computer as soon as possible. OpenCloud Security may come bundled with other malware but usually it is promoted via hacked websites that use software exploits and drive-by downloads to infected end users' machines. Scammer also use fake virus scanners to distribute malicious software, but they are probably not su effective as they used to be. Once installed, Open Cloud Security will scan your computer for viruses and then list six infections that can be only removed with a full version of this fake antispyware. The funny thing is that it displays the same infections on every infected computer. This means that OpenCloud Security has a predifiend list of infections and changes them randomly but doesn't actually scan your computer. As we mentioned, this rogue antispyware program displays fake security alerts. Here are some fake security alerts generated by OpenCloud Security:
Warning! Infection found
Unwanted software (malware) or tracking cookies have been found during last scan. It is highly recommended to remove it from your computer.
Keylogger Zeus was detected and put in quarantine.
Keylogger Zeus is a very dangerous software used by criminals to steal personal data such as credit card information, access to banking accounts, passwords to social networks and e-mails.
Warning: Infection is Detected
Windows has found spyware infection on your computer!
Click here to update your Windows antivirus software
Windows Security Center
Serious security vulnerabilities were detected on this computer. Your privacy and personal data may be unsafe. Do you want to protect your PC?
As you can see, OpenCloud Security is a scam. If you have already purchased this scareware, contact your credit card company and dispute the charges. Tell them that you thought that Open Cloud Security was a genuine antivirus but it appears to be a fake security product. In order to remove OpenCloud Security, please scan your computer with STOPzilla or remove associated malicious files manually.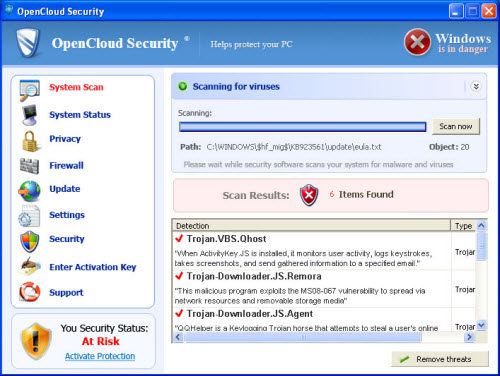 OpenCloud Security manual removal:
Kill processes:
OpenCloud Security.exe
Delete registry values:
HKEY_CLASSES_ROOTCLSID{19090308-636D-4e9b-A1CE-A647B6F794BF}
HKEY_LOCAL_MACHINESOFTWAREMicrosoftWindowsCurrentVersionExplorerBrowser Helper Objects{19090308-636D-4e9b-A1CE-A647B6F794BF}
Delete files:
%AppData%OpenCloud SecurityOpenCloud Security.exe
%AppData%OpenCloud SecurityOpenCloud Security.ico
%AppData%OpenCloud Securitywf.conf
%StartMenu%ProgramsOpenCloud Security
%StartMenu%ProgramsOpenCloud SecurityOpenCloud Security.lnk
%UserProfile%DesktopOpenCloud Security.lnk
Delete directories:
%AppData%OpenCloud Security
About the author