PC Defender 360. How to remove? (Uninstall guide)
PC Defender 360 is a malicious application, which is categorized as rogue anti-spyware and belongs to the same group of viruses as PC Defender Plus. It showed up in the end of July, 2013 and, it seems, it has only started swindling the money from unaware PC users. It does that by using a simple scheme, which is based on fake reports about invented cyber infections and misleading offers to purchase its licensed version. Please, stay away from PC Defender 360 because it is not capable to detect any kind of virus. In most of the cases, users can't stop its alerts because it modifies some PC's settings and starts showing up every time they reboot their computers. If you see notifications that report about viruses and then claim that these threats can be eliminated only with a help of PC Defender 360's licensed version, you can be sure that you are infected with rogue. We highly recommend ignoring these alerts and removing PC Defender 360 from the system as soon as possible.
HOW CAN PC Defender 360 ATTACK MY COMPUTER?
PC Defender 360 is spread with a help of Trojan horse, which is capable to exploit security vulnerabilities when trying to infect computers unnoticed. If you want to avoid it, you have to stay away from illegal websites, spam and similar things. Besides, make sure that you have both, anti-virus and anti-spyware, installed on your computer. As soon as it manages to upload its malicious files, PC Defender 360 modifies the system so that it could start its work every time PC is rebooted. We can easily predetermine that this application will additionally report for you about numerous viruses detected, such as Trojans, worms, rogues and similar cyber infections:
ATTENTION:
DANGER! System scan for spyware, adware, trojans and viruses has been finished. PC Defender 360 detected 105 critical system objects. These security breaches may be exploited and lead to the following:
Your system becomes a target for spam and bulky, intruding Ads
Browser crashes frequently and web access speed decreases
Your personal files, photos, documents and passwords get stolenYour computer is used for criminal activity behind your back
Bank details and credit card information get disclosed
PC Defender 360 Firewall Alert
iexplore.exe is infected with Trojan-Downloader.JS.Agent.ftu. Private data can be stolen by third parties, including credit card details and passwords.
Security Alert
Unknown program is scanning your system registry right now! Identity theft detected!
Threat: Hoax.HTML.OdKlas.a
In addition, virus offers purchasing its licensed version and eliminating these threats. Please, do NOT fall for that! You must remove PC Defender 360 ASAP.
HOW TO REMOVE PC Defender 360?
If you can get on the Internet, go and download one of these effective anti-malware programs: Malwarebytes MalwarebytesCombo Cleaner, Reimage. You should update them before running a scan to have a full virus data base! However, many rogues have been found to block computer from launching legitimate security programs.
In this case, try killing malware process by rebooting your PC to Safe Mode with networking and opening Task Manager (ctrl+shift+esc). Look for [random letters or/and numbers].exe or protector[random characters].exe processes, stop them and run a full system scan with anti-malware. Don't forget to scan your PC in normal mode as well to make sure that virus is gone!
Besides, you can also try using this registration code (thanks to S!Ri for it) for making your virus think that you have registered for the license: xOxZxLxWxIxTxFxQxCxNxYxKxVxHxSxE.
Alternative Software
Different security software includes different virus database. If you didn't succeed in finding malware with Reimage, try running alternative scan with Malwarebytes.
Alternative Software
Different security software includes different virus database. If you didn't succeed in finding malware with Reimage, try running alternative scan with Combo Cleaner.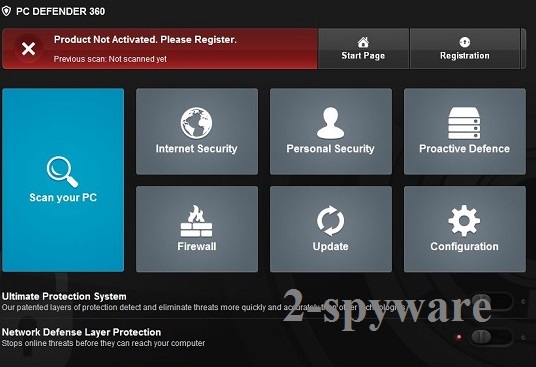 PC Defender 360 manual removal:
Kill processes:
[random].exe
Delete files:
[random].exe
PC Defender 360.lnk
About the author
Removal guides in other languages