PC Maximum Cleaner. How to remove? (Uninstall guide)
What is PC Maximum Cleaner?
PC Maximum Cleaner is a questionable program that has been added to 'potentially unwanted program' category. The official site states: 'this repair tool is designed to diagnose your PC problems and repair them quickly. It scans your PC and finds the problems and effectively fixes them. Having a clean and fixed computer helps running a faster restart process when needed, having less operating system errors and generally enjoying a faster PC operating system errors and generally enjoying a faster PC!' However, we can't guarantee that you will enjoy having this program on your computer. In reality, this system tool seeks just to scare its users and make them purchase its licensed version.
In most cases, this program starts running its scanners as soon as it enters computer. It typically lists hundreds of different errors and claims that the only way to get rid of them is to use its licensed version. Beware that the most of these reported problems are fake. Whenever PC Maximum Cleaner scans the computer, it always finds bad registry entries, viruses and additional problems. The program works like this in order to make users think that computer is infected when actually there is no potential danger. Basically, the aim of this application is to scare the user and force him or her to purchase the full version of the PC Maximum Cleaner. Furthermore, PC Maximum Cleaner may block your access to internet stating that it was blocked due to security reasons. You may be asked to call a specific number to get help. You may also receive suggestions to install additional applications, but keep in mind that none of them will do any good. Plus, you may receive a greatly increased telephone bill because all these 'free' numbers are actually the paid ones. To sum up, you should stay clear of PC Maximum Cleaner and remove it without a delay. For that you can use Reimage, which will detect and eliminate all malicious software that is hiding on your computer.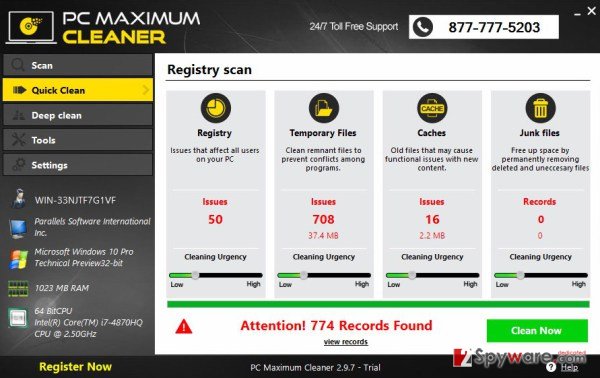 How can PC Maximum Cleaner hijack my computer?
PC Maximum Cleaner software may slither into your computer as an addition of a freeware. Beware that there are hundreds of apps that can be downloaded from the internet without a trouble. However, some part of them may be filled with useless components because the developers of such programs do not adequately disclose that other software was also added to their software and you may realize that you have installed the PUP without your knowledge. To avoid that, we highly recommend you to be attentive and read Terms and Agreement, Privacy Policy and similar information about the program. In addition, opt for "custom" or "advanced" install options and uncheck boxes that suggest additional programs, plug-ins or browser extensions.
How to remove PC Maximum Cleaner?
If you wish to remove PC Maximum Cleaner, you can get rid of it with these steps:
Press Start → Control Panel → Programs and Features (if you are Windows XP user, click on Add/Remove Programs).
Here, find PC Maximum Cleaner.
Uninstall it and other programs you do not want having on your computer.
Click OK to save these changes.
We also recommend you to install Reimage, Malwarebytes Malwarebytes or Plumbytes Anti-MalwareNorton Internet Security, and make sure that your computer is free of viruses.
Alternate Software
We have tested Plumbytes Anti-Malware's efficiency in removing PC Maximum Cleaner (2015-09-24)
We have tested Malwarebytes's efficiency in removing PC Maximum Cleaner (2015-09-24)
We have tested Hitman Pro's efficiency in removing PC Maximum Cleaner (2015-09-24)
We have tested Malwarebytes's efficiency in removing PC Maximum Cleaner (2015-09-24)
About the author