PC Privacy Defender. How to remove? (Uninstall guide)
PC Privacy Defender is a bogus spyware remover, fake anti-spyware application. Like many other similar rogue anti-spyware applications, PC Privacy Defender is also installed without user permission or knowledge through the use of trojan viruses or fake advertisements on various malicious websites. The main objective of this parasite is to scare the user into purchasing PCPrivacyDefender.
Once PC PrivacyDefender is installed and active, it performs various misleading actions. Firstly, it runs fake system scan and reports bogus results mainly about spyware and malware infections. Then the rogue promotes a licensed version of this totally worthless software. It displays rogue security alerts and pop-up windows with information about security problems and privacy issues. PC Privacy Defender is a fraud. It must be removed from the system immediately after detection. Removal delay will only worsen the situation, because the rogue can download additional malware. Please use manual removal guide stated below to completely remove PC Privacy Defender.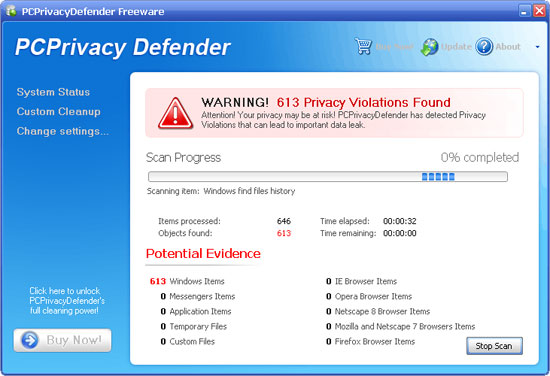 PC Privacy Defender manual removal:
Kill processes:
PP.exe
unins000.exe
Delete registry values:
HKEY_CURRENT_USERSoftwarePCPrivacyDefender Freeware
HKEY_LOCAL_MACHINESOFTWARECleaner2009 Freeware
HKEY_LOCAL_MACHINESOFTWAREMicrosoftWindowsCurrentVersionUninstallUPSPDAP_install_is1
HKEY_LOCAL_MACHINESOFTWAREPCPrivacyDefender Freeware
HKEY_LOCAL_MACHINESOFTWAREMicrosoftWindowsCurrentVersionInternet Settings5.0User AgentPost Platform "UPSPDAP 1.0.18.0"
HKEY_LOCAL_MACHINESOFTWAREMicrosoftWindowsCurrentVersionRun "PCPrivacyDefender Freeware"
Unregister DLLs:
ATL80.dll
mfc80.dll
msvcp80.dll
msvcr80.dll
UserAgent.dll
Delete files:
activate.dat
ATL80.dll
AV.dat
bnlink.dat
lapv.dat
license.rtf
mfc80.dll
Microsoft.VC80.ATL.manifest
Microsoft.VC80.CRT.manifest
Microsoft.VC80.MFC.manifest
msvcp80.dll
msvcr80.dll
PP.exe
pv.dat
readme.rtf
remnag.dat
ScanReport.dat
Schedule.dat
softwaredetect.dat
unins000.dat
unins000.exe
uninstall.ico
up.dat
updater.dat
UPSPDAP.exe
UPSPDAP.url
UPSPDAP.xml
UserAgent.dll
vbpv.dat
AE_CD_Cr.dat
AReadr4.dat
AReadr5.dat
ASDSEEpv.dat
ASPack.dat
Babylon.dat
BDelphi5.dat
CatchUp.dat
CBuildr5.dat
CCGA.dat
CManager.dat
CuteFTP4.dat
CuteHTML.dat
DAcceler.dat
DiscJug.dat
ECDCreat4.dat
Far.dat
FFTsks.dat
FlashFXP.dat
FrntPage.dat
FrontPEx.dat
FtpEXP.dat
FtpVoya.dat
GetRight.dat
GoZilla.dat
GravMRU.dat
H_TxtPad.dat
HomeSite.dat
HotDogPr.dat
IconExtr.dat
iMesh.dat
ImgReady3.dat
InsShExp.dat
JASC_P_P.dat
KaZaA.dat
LView.dat
MacDir.dat
MacDrWea.dat
MicAng.dat
MicDes.dat
MM_CON.dat
MMUnDisk.dat
Morpheus.dat
MPaint.dat
MPicPub.dat
MPImaGal.dat
MSExplorer.dat
MSoffice.dat
MSRegEdit.dat
MSWMP.dat
MSWordPad.dat
Nero.dat
NetShow.dat
NTBackup.dat
pfilelst.xda
PhotShel.dat
PHPCoder.dat
PowerZIP.dat
RapidBr.dat
RealAuPl.dat
RealDown.dat
SecurCRT.dat
SL_BlWin.dat
SmartClr.dat
Sonique.dat
StuffIt.dat
TelepPro.dat
UGifAnim.dat
UltraEd.dat
UMedStud.dat
UPhImpV.dat
UPhotoEx.dat
UVidStud.dat
VNC.dat
WebFeret.dat
WebReap.dat
WinACE.dat
WinGate.dat
WinRAR.dat
WinZIP.dat
WiseInst.dat
wordslst.xda
YahooPl.dat
ZipMagic.dat
PCPrivacyDefender Freeware.lnk
PCPrivacyDefender HomePage.url
Uninstall PCPrivacyDefender.lnk
Delete directories:
c:Program FilesPCPrivacyDefender Freeware
c:Program FilesPCPrivacyDefender FreewareAppbase
c:Documents and SettingsAll UsersApplication DataPCPrivacyDefender Freeware
c:Documents and SettingsAll UsersApplication DataPCPrivacyDefender FreewareData
c:Documents and SettingsAll UsersApplication DataPCPrivacyDefender FreewareDataActivationCode
c:Documents and SettingsAll UsersStart MenuProgramsPCPrivacyDefender Freeware
About the author