PC Security 2011. How to remove? (Uninstall guide)
PC Security 2011 is a rogue anti-spyware program that deliberately uses false scan results in order to trick you into thinking that your computer is infected with spyware, adware and viruses. When PC Security 2011 is installed it will be configured to automatically start when you login to your computer. Once started, the rogue program will pretend to scan your computer for malicious software and list a variety of infections that cannot be removed unless you purchase the full version of PC Security 2011. Some of these alerts will read:
PC Security 2011 – Runtime protection
PC Security 2011 has blocked spyware activity for this program.
iexplore.exe is probably infected with Conficker.B virus. This worm attempts to send your personal information to remote host through iexplore.exe
Warning! Adware Detected!
Netsky.Q.adware has been detected on your PC. A is a spyware program that may perform opening of a number of website popup's and ad's.
These infections are fake and do not actually exist on your computer. Please do not purchase PC Security 2011 and remove it from your computer as soon as possible using automatic removal tool or manual removal instructions outlined below.
PC Security 2011 reports the same infections regardless of the computer it is run on. It will block legitimate programs, antivirus software in the first place, and system tools to protect itself from being removed. It will display fake security warnings and pop-ups saying that your computer in infected with trojans and other malware. It will prompt you to active the rogue program and protect your computer against other infections. Some of the fake alerts you may see:
FlyAgent.F backdoor has been detected on your PC.
A Trojan that has backdoor capabilities.
It may perform certain actions based on the commands of a remote attacker. Commonly steals user credentials
Stealth intrusion!
Infection detected in the background. Your computer is now attacked by spyware and rogue software. Eliminate the infection safely, perform a security scan and deletion now.
As you can see, PC Security 2011 is designed to trick you into thinking you are infected in the hopes that you purchase their program. Please use the removal guide below to remove this rogue and any associated malware from your computer. We strongly recommend you to use STOPzilla to remove this infection.
In order to disable PC Security 2011, you can try enetering this serial code in Help and Support: xxx32-x0x9x-1x9x2 which was announced by S!Ri security expert.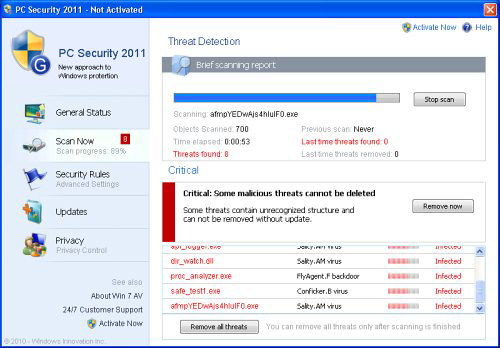 PC Security 2011 manual removal:
Kill processes:
PC2011.exe
[random].exe
dwm.exe
conhost.exe
Delete registry values:
HKEY_CURRENT_USERSoftwarePC Security 2011
HKEY_CURRENT_USERSoftwareMicrosoftWindowsCurrentVersionInternet Settings "ProxyServer" = 'http=127.0.0.1:53495'
HKEY_LOCAL_MACHINESOFTWAREMicrosoftWindowsCurrentVersionRun "conhost" = '%UserProfile%Application DataMicrosoftconhost.exe'
HKEY_CURRENT_USERSoftwareMicrosoftWindowsCurrentVersionInternet Settings "ProxyEnable" = '1'
HKEY_CURRENT_USERSoftwareMicrosoftWindows NTCurrentVersionWindows "load" = '%Temp%csrss.exe'
Delete files:
%UserProfile%Application Data.csrss
%UserProfile%Application Data[random].exe
%UserProfile%Application Data413A.C81
%UserProfile%Application Data[random].exe
%UserProfile%Application Data[random].exe
%UserProfile%Application Datadwm.exe
%UserProfile%Application DataMicrosoftconhost.exe
%UserProfile%Application DataPC Security 2011
%UserProfile%Application DataPC Security 2011defender_001.png
%UserProfile%Application DataPC Security 2011defender_002.png
%UserProfile%Application DataPC Security 2011defender_003.png
%UserProfile%Application DataPC Security 2011defender_004.png
%UserProfile%Application DataPC Security 2011defender_005.png
%UserProfile%Application DataPC Security 2011defender_006.png
%UserProfile%Application DataPC Security 2011defender_007.png
%UserProfile%Application DataPC Security 2011defender_008.png
%UserProfile%Application DataPC Security 2011filder.png
%UserProfile%Application DataPC Security 2011header.png
%UserProfile%Application DataPC Security 2011i_1.png
%UserProfile%Application DataPC Security 2011i_2.png
%UserProfile%Application DataPC Security 2011i_3.png
%UserProfile%Application DataPC Security 2011level.png
%UserProfile%Application DataPC Security 2011loading.gif
%UserProfile%Application DataPC Security 2011logo.png
%UserProfile%Application DataPC Security 2011m.png
%UserProfile%Application DataPC Security 2011off.png
%UserProfile%Application DataPC Security 2011on.png
%UserProfile%Application DataPC Security 2011progressbar.gif
%UserProfile%Application DataPC Security 2011progressbar_bg_1.gif
%UserProfile%Application DataPC Security 2011prot.png
%UserProfile%Application DataPC Security 2011scan_res_icon.png
%UserProfile%Application DataPC Security 2011t01.png
%UserProfile%Application DataPC Security 2011t02.png
%UserProfile%Application DataPC Security 2011update.png
%UserProfile%Application DataPC Security 2011w1.png
%UserProfile%Application DataPC Security 2011w2.png
%UserProfile%Application DataPC Security 2011w3.png
%UserProfile%Application DataPC Security 2011w4.png
%UserProfile%Application DataPC Security 2011w5.png
%UserProfile%Application DataPC Security 2011warning_popup_072.png
%UserProfile%Application DataPC Security 2011warning_popup_200.png
%UserProfile%Application DataUninstall_Security
%UserProfile%Application DataUninstall_Securityuninstall_security.lnk
%Temp%1.tmp
%Temp%1.tmp.exe
%Temp%4.tmp
%Temp%csrss.exe
%UserProfile%Start MenuProgramsPC Security 2011
%UserProfile%Start MenuProgramsPC Security 2011PC Security 2011.lnk
%UserProfile%Start MenuProgramsStartupPC2011.lnk
c:Program FilesPC Security 2011
c:Program FilesPC Security 2011PC2011.exe
Delete directories:
%AppData%PC Security 2011
About the author