PC Speed Maximizer. How to remove? (Uninstall guide)
PC Speed Maximizer is a malicious software, which displays forged system scanners seeking to lead its visitors to the money loss. It is promoted by misleading websites that are closely related to this program. As soon as you enter such site, you see a window showing a full system scan and reporting about hundreds of different kinds of PC issues. During our test, this scamware showed 332 items that have been supposedly slowing our computer down. In addition, we have been offered to eliminate these problems with a help of PC Speed Maximizer (paid version). Before you get involved into the same trickery, you must remember that Pcspeedplus.com/scan or similar domains are set to distribute its sponsored software, which has no ability to optimize the computer. Besides, such PC optimization tools report only about typical system's issues that can hardly be fixed. Please, stay away from PC Speed Maximizer and remove this useless program from your computer with a help of anti-malware. If you have been redirected to the site that promotes it, you should also scan the system and remove malicious files from the PC.
HOW CAN I GET INFECTED WITH PC SPEED MAXIMIZER?
PC Speed Maximizer can be installed accidentally. If you want to avoid this scam, you should stay away from annoying pop-up advertisements and misleading links that are typically used to promote such programs as PC Speed Maximizer on social networks and other sites. Besides, you should avoid entering such websites as Pcspeedplus.com/scan that are filled with misleading scanners that try to convince the victim that they are performed locally. In reality, this scan is performed online and has nothing to do with your computer. Be sure that PC Speed Maximizer is dedicated only for swindling the money from PC users, so you should avoid this program. If you have been tricked into installing it, we recommend uninstalling it.
How to remove Pc speed maximizer?
If you have been tricked to install Pc Speed Maximizer, you should immediately use Reimage to remove it from your computer. Besides, you should run the same scan if you have been redirected to malicious site that promotes it.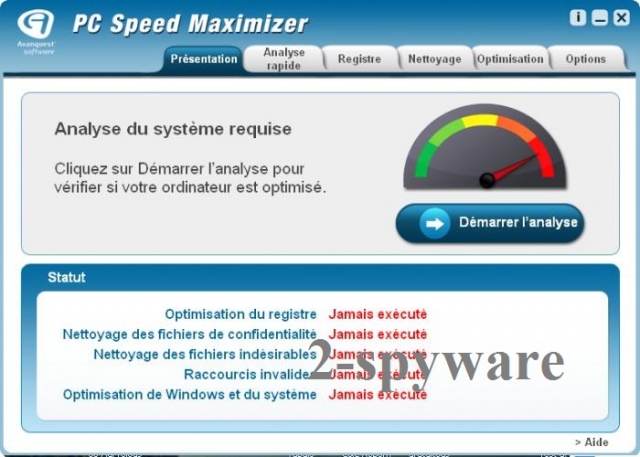 PC Speed Maximizer manual removal:
Kill processes:
[random].exe
Delete files:
[random].exe
About the author