PCprotectar. How to remove? (Uninstall guide)
PCprotectar is the name of just one more rogue anti-spyware program released by malicious WiniGuard. Being a part of this group of malwares, PC Protectar acts just like any other earlier created its member, designed to deceive people into buying the "registered" version of the software. PCprotectar typically like PcsProtector, Great Defender or TheDefend, installs onto the targeted machine using backdoor techniques. Trojans that pass into with corrupt files (fake multimedia codecs, for example) come unexpectedly and stay totally unrecognized. Therefore, such hidden infiltration is also accompanied by PC Protectar unregistered version infiltration which is downloaded by the same trojans.
Once on board, PCprotectar invades the system by dropping some registry entries of its own as well as creating a bunch of fake random files inside system32 directory. It will start immediately after Windows boots up and will impose its free system scanner. Eventually, this malware detects spyware and other security issues, also reporting its own corrupt files as infections. The pop-up and other kind of messages will appear and suggest PC users to register PCprotectar full version which is not free, of course.
If you have already purchased PC Protectar commercial variant, you can be sure you've been deceived because this rogue anti-spyware is not able to eliminate any PC infection. The best thing to do is to remove this parasite as soon as possible before it slows down your computer and affects your Internet. Delete PCprotectar, because is just one more scam released by WiniGuard.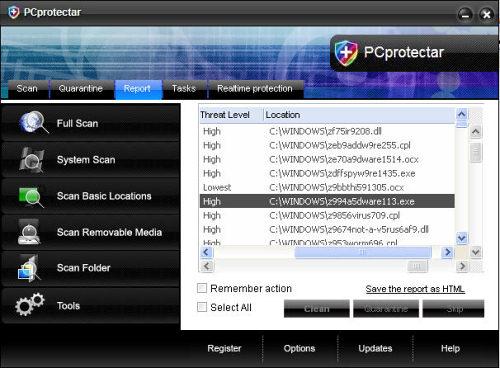 PCprotectar manual removal:
Kill processes:
2jpyu297.exe
azv3bjtk.exe
oycn3nis.exe
PCprotectar.exe
uninstall.exe
Delete files:
PCprotectar.exe
uninstall.exe
PCprotectar.lnk
1 PCprotectar.lnk
2 Homepage.lnk
3 Uninstall.lnk
2jpyu297.exe
azv3bjtk.exe
oycn3nis.exe
Delete directories:
%Program Files%PCprotectar Software
%Documents and Settings%All UsersStart MenuProgramsPCprotectar
%Temp%2jpyu297.exe
About the author