PcSecureNet. How to remove? (Uninstall guide)
PcSecureNet (sometimes called as Pc Secure Net) is a rogue anti-spyware program which uses the same malicious tricks just like its initials PcsSecure or APcSafe. Having the same aim, all these scams are designed only to rip people off and increase the profit for their creators, so please do not purchase any of them! Contrary, use the removal guide written at the end of the article and delete PcSecureNet completely.
PcSecureNet typically to the most of the rogues generates fake system scanners and popup alerts that report a great number of threats detected. As a rule, all these fabricated warnings and system scanners announce the files that are created by the same PcSecureNet. Even more, some of these files are completely normal legitimate files, so please don't remove them from your computer. Such elimination can cause serious problems such as system disruption and you can even damage your PC! The alerts produced by PcSecureNet usually look like that:
"Spyware Alert!
Your computer is infected with spyware. It could damage your critical files or expose your private data on the Internet. Click here to register your copy of PcSecureNet and remove spyware threats from your PC."
Eventually, people are offered to purchase the "licensed"' version of PcSecureNet for getting rid of the cyber threats "detected". Note: so called "licensed" version is completely useless, so save your money and don't purchase it! Once you spot any traits of PcSecureNet, we highly recommended you to check your computer for parasites. Because of the Trojans that are used for the PcSecureNet distribution, this malware has ability to come unrecognized, so keep your anti-spyware software updated! Remove PcSecureNet as soon as possible!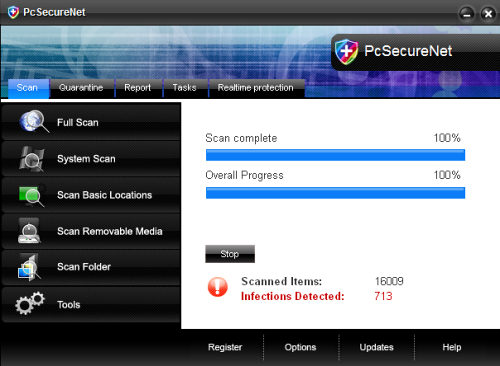 PcSecureNet manual removal:
Kill processes:
PcSecureNet.exe
uninstall.exe
Delete files:
PcSecureNet.lnk
1 PcSecureNet.lnk
2 Homepage.lnk
3 Uninstall.lnk
main_config.xml
PcSecureNet.exe
uninstall.exe
[random].exe
About the author