PcsProtector. How to remove? (Uninstall guide)
PcsProtector (or Pcs Protector) is a rogue anti-spyware which must be deleted as soon as possible. Do NOT purchase Pcs Protector no matter what it states because it is known to be useless and incapable to detect and delete any spyware. The program is designed only to steal the money, so contacting your credit card company is highly recommended if you have already purchased PcsProtector.
PcsProtector is promoted through the use of Trojans that usually camouflage under the name of video codecs or flash updates. Pretending to be necessary programs, Trojans download all the data useful for this malware and make configurations that help to start automatically when Windows boots up. They also create fake malware files with random names and drop them on the compromised machine.
PcsProtector appears unexpectedly when browsing the Internet. Program firstly starts scanning the system for malware and alerts about hundreds of infections detected. To scare unaware PC users even more, PcsProtector also displays fake security alerts and messages that inform about active malware or malicious attacks found. Additionally, for the removal victims are asked installing the "licensed" version of PcsProtector and, of course, money is required for a possibility to do that.
The truth is that Pcs Protector detects the same files that are created by Trojans which install this scam. These infections reported are simply invented and harmless, so you can easily ignore them. Just like the scan results, security alerts are also just another attempt to make users think that their computers have security issues and purchasing this malware is needed. Don't spend your money on this fake security program. Please, use a reputable antispyware and delete all the files, connected to PcsProtector. Remove PcsProtector as soon as possible!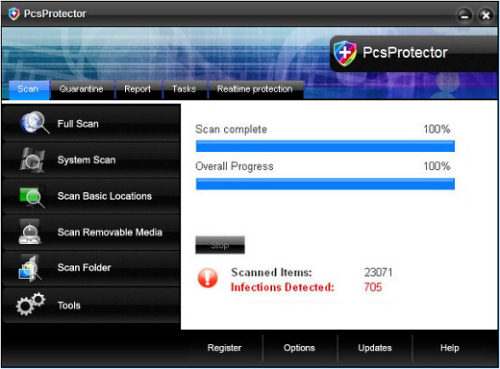 PcsProtector manual removal:
Kill processes:
PcsProtector.exe
uninstall.exe
%WINDOWS%\System32\.exe
Unregister DLLs:
10566viruz2809.dll
10501not-a-vizus359.dll
105259orz1d2.dll
Delete files:
main_config.xml
PcsProtector.exe
uninstall.exe
10566viruz2809.dll
10652not-a-virus69z.cpl
1092sp5wzre1923.bin
10501not-a-vizus359.dll
105259orz1d2.dll
1058ztroj95e.cpl
PcsProtector.lnk
1 PcsProtector.lnk
2 Homepage.lnk
3 Uninstall.lnk
About the author