Personal Protector. How to remove? (Uninstall guide)
Personal Protector is a misleading anti-spyware application from the same family as Personal Guard 2009. Most of the time, the rogue program is promoted through the use of Trojans, but may also come bundled with other malicious software. When running, Personal Protector reports false scan results, displays fake security alerts and hijacks Internet Explorer to scare you into thinking that your computer is infected with numerous Trojans, spyware and other malware. Then it asks to pay for a full version of the program to remove the threats, which of course do not actually exist. In other words, this is nothing more but a scam. Do not purchase this bogus software. We strongly recommend you to uninstall Personal Protector from your computer as soon as possible if it is already infected with this malware.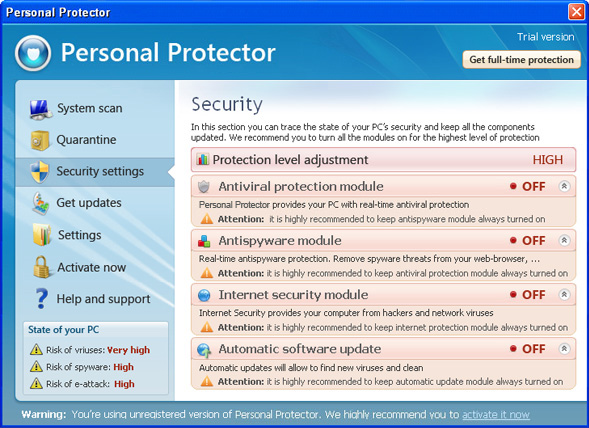 [Figure 1. Personal Protector graphical user interface]
Usually, Personal Protector must be manually installed. However, the scammers use various misleading tactics and social engineering to trick you into installing this malware. Most of the time, scammers use fake online scanners and misleading websites full of advertisements to make you think that your computer is infected and that yur should download Personal Protector to remove those infections. Another very popular method is when fake online video websites prompts a user to install flash player update to view requested video. But what he really gets is Trojan virus which later downloads rogue files and displays fake security alerts.
When active, Personal Protector displays many fake security alerts and notifications stating that your computer is infected or under attack. Those fake alerts are very annoying and shows up like every one or two minutes. I also states that your personal information can be stolen. To make things look more realistic, the rogue application disables anti-virus software and block certain security related websites. You may not be able to use such system tools as Task Manager and System Restore. PersonalProtector disables these tools to protect itself from being deleted. If you find that your computer is infected with this malware, please use the removal guide below to remove Personal Protector from the system manually for free. Most importantly, do not purchase. If you have already done this, then contact your credit card company and dispute the charges. Last, but not least, scan your PC with a reputable and effective anti-spyware application like STOPzilla to make sure that the rogue program is fully removed form your computer.
Personal Protector manual removal:
Kill processes:
personalprotector.exe
un.exe
Delete registry values:
HKEY_USERS.DEFAULTPrintersDevModePerUser
HKEY_USERSS-1-5-18PrintersDevModePerUser
HKEY_LOCAL_MACHINESOFTWAREMicrosoftWindowsCurrentVersionUninstallPersonal Protector
HKEY_LOCAL_MACHINESOFTWAREPersonal Protector
HKEY_LOCAL_MACHINESOFTWAREMicrosoftWindowsCurrentVersionRun "personalprotector"
HKEY_LOCAL_MACHINESOFTWAREMicrosoftWindowsCurrentVersionRunOnce "suicide"
Unregister DLLs:
inetprovider.dll
Delete files:
base.wdb
baseadd.wdb
conf.wcf
personalprotector.exe
quarant.wdb
queue.wdb
un.exe
tempfile2.bat
inetprovider.dll
Personal Protector.lnk
Uninstall.lnk
Delete directories:
C:Program FilesPersonal Protector
C:Program FilesPersonal Protectorq
c:Documents and SettingsAll UsersMicrosoft PData
%UserProfile%Start MenuProgramsPersonal Protector
About the author