Policía Nacional del Ecuador virus. How to remove? (Uninstall guide)
Policía Nacional del Ecuador virus is a malicious ransomware, which tries to scare its victims into believing that they have a deal with a real police and that they must pay the fine of $100. This threat starts manipulating its victims just after it manages to overcome computer's security barriers and brings all its files onto the system. Additionally, it blocks the whole system down and replaces PC's desktop with a huge alert that reports about various law violations. So, once you get infected with Policía Nacional del Ecuador virus, you will find out that this virus has restricted the whole access to your system and that the only thing you are able to do is look at its officially-looking message. Please, don't take this alert seriously because it seeks to trick you into paying the invented fine. You have to remove Policía Nacional del Ecuador virus as soon as possible.
HOW CAN I GET INFECTED WITH Policía Nacional del Ecuador virus?
Policía Nacional del Ecuador virus is distributed by trojan horse, which is called Trojan.LockScreen. You can download it in a form of fake update or video player, or simply after you click on malicious link incorporated into spam message. As soon as this trojan gets inside, it locks the whole computer down and shows only its fake alert that pretends to be from Policía Nacional del Ecuador. This notification classically states that the user is blocked because of the use of copyrighted content, distribution of pornographic material or visiting of forbidden websites. Additionally, it offers to pay the fine of 100 dollars and unlock the system in this way:
¡ATENCIÓN! Su OP (ordenador) está bloqueado debido a al menus una de las razones especificadas siguientes.
Usted ha violado "el derecho de autor y los derechos conexos" (video, música, software) y ha utilizado de una manera illegal con la distribución de contenido los derechos de autor, infrigiendo así el artículo 128 del Criminal Code de la República de Ecuador.
(…)
Las multas deben solamente ser pagodas durante 72 horas después de la infracción. Tan pronto como 72 horas transcurren, su posibilidad de pagar la multa sera expirada, así, un proceso penal será automáticamente iniciado en su contra durante las próximas 72 horas!
(…)
El importe de la multa es de USD $100 (US Dólar).
Usted puede pagar esta multa por Ukash.
Of course, you MUST never follow misleading commands of Policía Nacional del Ecuador virus because you will only lose your money and won't have your PC unlocked. In order to do that, follow the details listed below:
HOW TO REMOVE Policía Nacional del Ecuador virus?
For unblocking your PC from this virus, you have to choose one of these options:
* Flash drive method:
1. Take another machine and use it to download Reimage or other reputable anti-malware program.
2. Update the program and put into the USB drive or simple CD.
3. In the meanwhile, reboot your infected machine to Safe Mode with command prompt and stick USB drive in it.
4. Reboot computer infected with Policía Nacional del Ecuador virus once more and run a full system scan.
* Users infected with Policía Nacional del Ecuador virus are allowed to access other accounts on their Windows systems. If one of such accounts has administrator rights, you should be capable to launch anti-malware program.
* Try to deny the Flash to make your ransomware stop function as intended. In order to disable the Flash, go to Macromedia support and select 'Deny': http://www.macromedia.com/support/documentation/en/flashplayer/help/help09.html. After doing that, run a full system scan with anti-malware program.
* Manual Policía Nacional del Ecuador virus removal:
Reboot you infected PC to 'Safe mode with command prompt' to disable Ukash virus (this should be working with all versions of this threat)
Run Regedit
Search for WinLogon Entries and write down all the files that are not explorer.exe or blank. Replace them with explorer.exe.
Search the registry for these files you have written down and delete the registry keys referencing the files.
Reboot and run a full system scan with updated Reimage to remove remaining virus files.
Alternate Software
We have tested Malwarebytes's efficiency in removing Policía Nacional del Ecuador virus (2013-04-03)
We have tested Malwarebytes's efficiency in removing Policía Nacional del Ecuador virus (2013-04-03)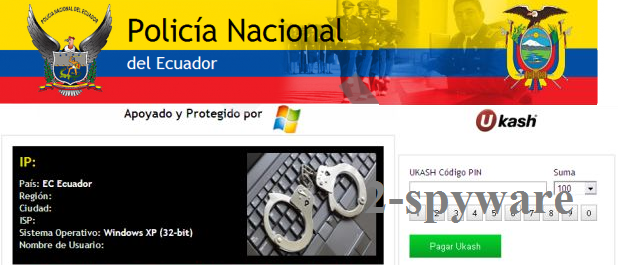 Policía Nacional del Ecuador virus manual removal:
Kill processes:
[random].exe
Delete files:
[random].exe
About the author